October 3, 2014
Inside SAMS' Dental Clinics
Why Dental Clinics?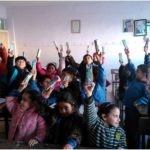 When it comes to the supply of vital health related services for a refugee community, dental care is often overlooked. However, SAMS sees the importance and necessity of this aspect of healthcare.
 People of every age group need oral care, whether children in crucial stages of tooth growth and healthy routine development, or adults in need of tooth extraction to prevent further infection. With the knowledge that dental health is closely linked to overall health and can often act as an indication of well-being (or lack thereof), SAMS is working to ensure that dental care reaches those refugee populations in Syria and surrounding areas.  We hope to transition and expand our current clinics from temporary to permanent and encourage all communities to help us with this endeavor!
Dental clinics require significant support, both from the dentists performing the procedures and the donors providing the supplies and equipment. SAMS establishes, supports, and completely funds these clinics. In addition to providing basic dental care, these clinics are able to employ Syrian dentists and other medical professionals, giving families an opportunity to improve their quality of life. Skill building employment can be even harder for refugees to find than basic employment and clinics can allow development in these areas.
History of Our Project
Our Dental Relief Project started in September of 2012 with just one portable dental unit and two suitcases of tools and materials. The clinic was the first ever dental relief facility for Syrian refugees in Turkey.
Today, we support 21 clinics, operating through 17 dentists and 18 auxiliary staff, both in Turkey and within Syria. These clinics currently treat between 6000 and 7000 patients each month. Roughly 85% of these patients require immediate urgent care. The facilities are not equipped to handle teeth replacement only fillings, extractions, and root canal treatments. In 2013 alone we were able to serve roughly 80,000 refugees.
Where are SAMS clinics?
Turkey: SAMS established a dental program with several dental clinics, inside or near refugee camps, that are supervised and operated by a Syrian-American dental team. In 2013, the SAMS dental program received over 80,000 patients, and was averaging between 5,000 and 7,000 visits a month.
Syria: SAMS supports smaller dental clinic operations within Syria, many consisting of mobile units that are able to reach multiple villages and suburbs. Unfortunately, there is still much need for more clinics within Syria, especially after the closure of two SAMS clinics due to the effects of excessive shelling.
Looking Forward
With the completion of 3 dental relief missions in June 2014, SAMS continues to look towards the future with hopes for establishing more clinics. Current plans aim to target the Zaatari Refugee Camp in Amman, Jordan. This camp hosts over 100,000 refugees and has an overwhelming need for dental clinics. Our current funding goals would allow us to establish two clinics within the camp by October 15, 2014, with anticipation for more clinics in the near future with the help and support of our SAMS community.
Clinic in Focus
One of SAMS largest operating clinics can be found in Kilis, Turkey. The clinic serves a total of about 100,000 displaced Syrians, and sees between 1400 and 1600 cases every month. The facility, which possesses only 2 dental chairs, is run by four dentists and two assistants who work at the clinic 6 days per week.
Learn about one of our own!
Dr. Mohammed Al-Nahhas,
Chair of SAMS Dental Committee
Dr. Mohammad Al-Nahhas i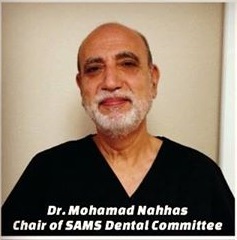 s the founder and chairman of the SAMS dental program, established in September 2012. Dr. Al-Nahhas left his hometown of Homs, Syria in 1975 to receive his dental training from Alexandria University and graduated in 1979. He completed his residency in Prosthetic Dentistry at Columbia University in 1986. In 1990, Dr. Al-Nahhas moved to Panama City, Florida, where he established his current dental practice. Dr. Al-Nahhas was driven by a compassionate heart to establish a dental program for Syrian refugees after seeing a vast need for dental treatment amongst displaced Syrians who have no access to care.
Dr. Al-Nahhas was greatly inspired by an elderly gentleman, who had come to the Islahiye  Refugee Camp clinic experiencing so much pain and he expressed to the doctor that he had been in pain for several days.  Once treatment was rendered to the gentleman and his pain was relieved, the man began to weep with gratitude and relief.  It was at that moment that Dr. Al-Nahhas was moved in his spirit by such compassion that he later stated, "If I had only come to Turkey to treat this one elderly gentleman, it was worth the time and effort."