December 1, 2014
Tomorrow is #GivingTuesday, the global day dedicated to giving back.
People across the world are coming together for one common purpose: to celebrate generosity and to give. We hope that you will consider donating to the lifesaving medical and humanitarian work of SAMS. Here are 10 reasons to give to SAMS and join us in impacting Syrian lives:
1. Our doctors risk their lives to save lives. Our team of doctors, nurses, and medical personnel in Syria selflessly provide care to those in need, regardless of affiliation. We work with medics who remain in Syria to treats civilians despite the daily personal risk. They are the forgotten victims and heroes of the Syria crisis.
2. The Abdul-Rahman Peter Kassig Fund. SAMS has just established the Abdul-Rahman Peter Kassig Fund in honor of brave humanitarian aid worker, colleague, and friend Abdul-Rahman Peter Kassig. Abdul-Rahman was an emergency medical technician working to save Syrian lives. His courage and compassion touched thousands of lives, and we will use this fund to support Syrian doctors in Abdul-Rahman's memory.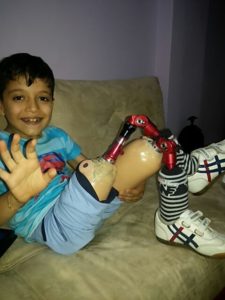 3. This boy's smile. After losing his mother, his sister, and both of his legs in a barrel bomb attack, this boy asked the doctor treating him a heartbreaking question: "Will I be able to go to school anymore?" Now, thanks to the hard work of Syrian doctors and donations, he has two prosthetic legs and is able to attend school. His smile brings us hope for the next generation of Syrians.
4. We reach Syrians under siege. East Ghouta has been under siege for the past 3 years, with chemical weapons attacks, forced isolation, and starvation tactics putting civilians in unthinkable conditions. SAMS is the main organization providing medical relief to hospitals, intensive care units, birth centers, and neonatal centers in East Ghouta. SAMS also operates a psychosocial center that sees around 300 children each month, supporting them with mental health programs that build resilience.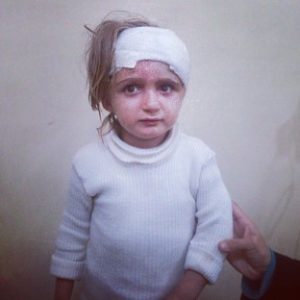 5. Our new craniotomy equipment in Aleppo. SAMS recently donated critical craniotomy equipment to a medical facility in Aleppo. It did not take long before the equipment was to put to use saving lives! Meet the first child to undergo brain surgery with the new equipment, during bomb attacks no less. Equipment like this will reduce the number of referral cases to Turkey and prevent unnecessary long ambulance rides to border hospitals during which lives are lost.
6. Innovative use of telemedicine. SAMS provides critical ICU care in challenging areas within Syria, and the management of patients in intensive care units is complemented by electronic-ICU care, where critical care specialists in the U.S. use skype and internet videos to monitor patients remotely. Telemedicine is also used to teach and guide local physicians during surgeries.
7. Underground hospitals. Hospitals and medical centers are targeted daily in Syria with missiles and barrel bombs. In response to the risk, hospitals have been forced underground to avoid harm to staff, patients, and equipment. Less than two months ago, a SAMS supported facility in Hama was hit by a barrel bomb; no one was injured, and no equipment was damaged. Had this hospital been above ground, it is likely that many lives would have been lost.
8. Our winterization efforts.  As winter approaches, fuel resources are diminishing, limiting basic hospital operations and the ability of families to cover household needs. SAMS winterization programs will prepare our facilities, their staff, and everyday citizens for the upcoming season through provision of basic necessities, such as fuel, blankets, and medicine.
9. Art therapy changing lives. SAMS knows that psychosocial care is essential for the rehabilitation of refugees in any country. The violence and conflict in Syria deeply affects all who have experienced the horrors of war, regardless of gender or age. Art therapy provides a safe space for children to express their feelings, helping transform negative feelings into something productive, learn how to express emotions better, and work through the pain of war.
10. Our far-reaching impact. Your contributions have helped us impact millions of Syrian lives through our work:
More than 500,000 patients treated
Over 70,000 surgeries performed
2 mobile clinics treated 144,000 patients
45 ambulances transported 81,000 patients
100,000 chemical weapon antidotes to sarin gas provided
30,000 visits to psychosocial programs
84,000 visits to dental clinics
21,000 dialysis sessions
1.4 million children vaccinated for polio
400 doctors trained
3,600 newborns from birth centers
250 doctor salaries provided
This #GivingTuesday, join us and help us do what we do best: impact the health and lives of millions of Syrians. Donate today!