December 15, 2014
On Saturday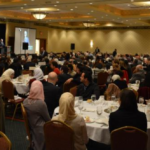 December 13 in Chicago, the Syrian American Council, a community organization devoted to raising awareness and advocating for human rights and dignity for all Syrians, hosted a tribute dinner. During the ceremony, SAC expressed its appreciation for the contribution of local and national Syrian American organizations and their work to bring peace and relief to Syria.
The Syrian American Medical Society received the "Hakam Sibai Award for Service" for the its work in medical relief inside Syria and in neighboring countries. The award also recognized the advocacy works of SAMS for the protection of medical facilities, healthcare workers, and volunteers.
Hakam Sibai was a first aid worker with SARC. He was killed when his Red Crescent ambulance was hit by 31 bullets while he was treating wounded demonstrators in the city of Homs in 2011. He has become the icon of the medical community, which has been heavily targeted from the beginning of the crises. Since his death,  hundreds of physicians, nurses, and volunteers have been killed, arrested, and prosecuted simply for saving lives, no matter the affiliation.
SAMS is honored to receive this award and strives to continue its work for Syria.