February 7, 2015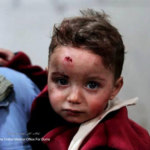 SAMS condemns the intense and brutal military assaults of Eastern Ghouta, and calls for an urgent humanitarian and medical response from the international community. The last three days have brought immense suffering to the hundreds of thousands of civilians trapped in besieged Eastern Ghouta, in what some residents are calling an unprecedented aerial and artillery assault on the city.
According to medical personnel on the ground, 85 people were killed in the attacks on the areas of Douma, Erbeen, Ain Terma, and Kafr Batna. At least 17 children and 13 women were among those killed, including a female volunteer for the Red Crescent Douma Branch.
The number of wounded was over 300 on Friday. Civil defense, evacuation teams, surgeons, and medics sustained major injuries. The only vascular surgeon in Eastern Ghouta is suffering from second-degree burns, and the only thoracic surgeon in Eastern Ghouta is also injured. Two ambulances were destroyed by aerial bombardment.
Field hospitals in Eastern Ghouta have faced infrastructural damage and are overwhelmed by the numbers of injured civilians. A SAMS-supported hospital in Douma sustained severe damages, and is currently closed. Its radiology department was destroyed, along with its MRI machine, CT scanner, and the hospital's electrical feeding unit. Hospital generators, monitors, communication systems, and patient wards were severely damaged. The loss of already limited medications and supplies has led to intense limitations on the emergency treatment available to the injured.
For more than two years, Eastern Ghouta, a suburb of Damascus, has been under siege. Civilians have gone without electricity, food, water, or desperately needed supplies. Food insecurity has been profound, with the population suffering from hunger, malnutrition, and even starvation. Medical care has been limited because of desperate shortages of supplies and medication. At the same time, shelling and aerial bombardment of area has been almost constant during various periods of the past year. SAMS calls for the UN Security Council to revisit Resolution 2139, which mandates that all parties "immediately end the siege of populated areas," and send humanitarian aid convoys, including medical assistance, into these besieged areas immediately. The siege and targeting of civilians is a flagrant violation of international humanitarian law as per the Geneva Convention.
The Medical Office in Douma published a short statement about this week's attacks, titled "Carrying On." Though the health workers are overextended and in danger, they wanted to deliver the message that bombings will not prevent them from continuing with their medical work.
SAMS is leading an emergency response to deliver medical care to Eastern Ghouta. Please join us and help bring supplies and medication to Eastern Ghouta, and support to these brave doctors on the ground who are saving lives.