June 24, 2015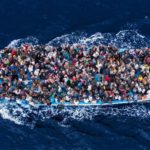 "The sea is in front of you, the enemy is behind you and either option brings death." -Arabic proverb
The UNHCR recently put the number of displaced peoples and refugees at around 60 million, 14 million of whom were newly displaced this year. Four years since the conflict began, Syria has become a vicious war zone and the leading refugee source country as 6.5 million Syrians are internally displaced and 4 million have sought refuge outside of Syria, mostly in Jordan, Turkey, Iraq, Lebanon, and Egypt. The ever growing Syrian refugee community in the camps and towns of bordering host countries faces unemployment, harassment, hunger, and an overall sense of desperation. This desperation and hopelessness has pressured tens of thousands of Syrians to seek asylum in Europe via the smuggling crossings in the Mediterranean which the UNHCR has called "the most lethal route in the world."
In 2014, the UN reported that 3,200 would-be refugees died attempting the Mediterranean Sea crossing, a four-fold increase from the 700 deaths in 2013. The International Organization for Migration has warned that the death toll could top 30,000 in 2015 as hundreds of thousands from Sub-Saharan Africa, Yemen, and Syria continue to flee instability and conflict and gamble their lives in smugglers hands and rickety boats for refuge in Europe. Syrians, who comprise at least a quarter of those making the crossings into Europe, are trafficked illegally and dangerously through border crossings in North Africa on their way to smugglers' ports on the coast of Libya.  Refugees used to attempt the crossings between Libya and Sicily, and between Turkey and Greece, only during the warm, summer months but demand has created a year-round smuggling business in poorer-quality vessels and in more dangerous weather. Paying $2,000 for their passage, and upwards of an additional $2,000 for a life-preserver and a daily meal, migrants are packed into overcrowded boats manned by inexperienced crews which are often times equipped only with a GPS.
Once at sea, the refugees are subject to a host of risks including sunstroke, starvation, shipwreck, and pushback (intentional rejection and abandonment by either private vessels or government agencies).  These refugees find themselves subject to the whims of their crews. In October 2014, hundreds of refugees drowned after their ship was rammed by another smuggler vessel. More commonly, however, refugees will be abandoned by their crews with the expectation that that Italian or Greek authorities will intervene. In the first week of 2015, the Italian navy found a ghost ship, carrying 360 thirsty, hungry, and terrified Syrian refugees, 40 miles south of the Italian coast. The passengers of the Ezadeen were days away from joining the ranks of the uncounted dead who risked their lives on this dangerous route in search of a better life. This crisis in the Mediterranean, which the UN has called "a tragedy of epic proportions," is expected to worsen as the number of Syrian, and global, refugees swells in forgotten and underserved parts of the world and spills out towards Europe. As Jan Egeland of the Norwegian Refugee Council stated in an interview with Syria Deeply, these deaths in the Mediterranean need to be a wake-up call and an impetus towards increased aid and a restructuring of routes for legal and safe refuge.
This blog post was written by Jake Hazen, SAMS Policy Intern.