November 25, 2015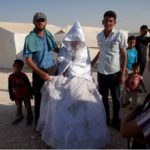 The United Nations designates November 25 as the official day for the Elimination of Violence against Women. This day is the first of the 16 Days of Activism to End Gender-Based Violence, culminating with Human Rights Day on December 10. The UN estimates that 1 in 3 women have experienced either physical or sexual violence. One of the greatest groups of women at risk are Syrians. Not only do they face physical and sexual violence in their own war-torn country, but also as refugees in neighboring countries.
As refugees, women and girls face new risks of gender-based violence. During times of conflict, women are particularly vulnerable to sexual assault at the hands of fighting forces. In a refugee camp, they are vulnerable to violence from members of the community of their host countries and others in the camp who they depend on for basic necessities. Syrian women are frequently harassed by men of the host country who may view them as a drain on their country's resources. Some of these men use their position of power to exploit the desperation faced by many Syrian women. One mother told the International Rescue Committee (IRC) that when her daughter applied for a job the shop owner told her, "I crave you— if you refuse to give yourself to me then you can forget about a job." This is a common dilemma for many Syrian refugees. They are forced to trade sex for shelter, food, and jobs, or they and their families suffer the consequences.
This hostility has forced many Syrian women to hide indoors. The IRC found that 1 in 3 female refugees are afraid to leave their home. Many male relatives believe they are protecting their female relatives by keeping them away from harassment and exploitation. However, this keeps them away from schools, women's centers, and economic opportunity – all vital tools for preventing gender-based violence. Even at home, Syrian women are not entirely safe. Male family members are often unable to process the stress of life as a refugee in a healthy manner. The trauma of conflict and the daily struggle of life in a refugee camp creates an environment where domestic abuse becomes an outlet for stress. Some even react with violence when learning about harassment or sexual assault of a female family member, resulting in many women remaining silent about these abuses.
Finding themselves in a desperate situation, many Syrian women and girls are forced into an early marriage to alleviate their family's financial burden or to escape the violence. Save the Children found that marriage rates for Syrian girls under the age of 18 have doubled since the beginning of the conflict. Girls as young as 13 find themselves engaged to older men so their family can use the dowry to survive. Fearing for the immediate safety of their daughter or facing a desperate financial situation, families will opt for early marriage despite the long-term consequences, including emotional, physical, and sexual abuse.  
The greatest driver of these marriages is lack of options. Women and girls and their families feel as though there is no other option than to marry for financial and physical security. Families, fearing for the safety of their daughter, arrange marriages without the consent from the girls themselves. Marriages are normally a community affair in Syria. Community ties help families determine the nature of their future son-in-law. However, with the conflict breaking up communities, families do not know who their daughter is marrying. Girls can find themselves in abusive marriages or as "pleasure wives," whose marriages are legally non-binding. Pregnancies at such a young age can often result in miscarriages or death during childbirth. Young girls are often forced to leave school to care for their husbands. At 15, Sabeen confided,"I had such big dreams – I wanted to be a fashion designer, but now I'm trapped in this marriage, which for me is like a prison."
Many organizations are working to provide women and girls with more options. Women's centers in host countries help women rebuild their community networks and find support. At an IRC Women's Center, Layla described her experience, stating, "I am happy that someone is hearing us. I feel like the problems we are facing are those faced by all and this helps me— that it is not just me. We are all facing these issues together." The center teaches skills to help women gain economic independence, making them more valuable than any dowry. "A skill for a woman is a weapon," stated Yana, "It allows her to stay independent, to protect herself and her family."
Providing women with more options addresses only half of the issue. Men and the community must be a part of the solution. A ConcernUSA program in Lebanon created men's committees where men can have a safe place to express emotions about life as a refugee. It helps men find positive coping mechanisms to deal with the stresses of their new life, develop a community to discuss the issue of gender-based violence, and learn what they can do to prevent gender-based violence. Additionally, organizations work to do community mapping to identify schools, clinics, aid stations, and workplaces, and determine whether or not women have safe access to these facilities. After receiving reports from three girls who reported feeling unsafe using a specific latrine, the IRC learned that all three girls had been assaulted by the same man at the latrine. As a result, the community acquired locks for the latrine door, provided flashlights, and had adults escort girls to the latrine after dark. The use of community mapping and protection mainstreaming can help the community address the problem.
Life as a refugee should not mean fear of more violence. It is up to host countries, aid organizations, and the Syrian community to address these issues to ensure that Syrian women and girls are not forced to escape from one form of violence into another.

This blog post was written by Laura Merriman, SAMS Advocacy Intern