December 2, 2015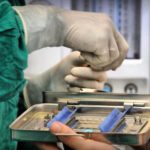 In 2014, SAMS supported over 1.4 million Syrians in need, and we have already supported over 2 million Syrians in 2015 so far. We hope that you will consider donating to the lifesaving medical and humanitarian work of SAMS to help us continue to impact the lives of Syrians in need.
 Here are 10 reasons to donate to SAMS and join us in impacting Syrian lives:
1. Our medical personnel save lives under fire.
We support a team of over 800 doctors, nurses, and medical personnel in Syria who risk their own lives to provide vital care to Syrians who need it most.
2. Our Refugee Fund. 
In neighboring countries, SAMS provides the life-saving and dignified medical care that refugees deserve. We operate the largest multi-specialty clinic in Zaatari Camp, support critical psychosocial programs in Jordan and Lebanon, provide dental care in Turkey, and give winterization kits to families in need throughout the region.
3. Psychosocial care for children.
We know that psychosocial care is essential for children who have experienced trauma – last year we supported over 5,500 Syrian children. Psychosocial programming provides a safe space for children to express their feelings, learn how to express emotions, and work through the pain of war.
4. We reach Syrians under siege.
Long-term sieges of populated areas – some of which have been ongoing since 2012 – have had a devastating impact on the people trapped inside. East Ghouta has been under siege since 2012, with chemical weapons attacks, forced isolation, and starvation tactics putting civilians in unthinkable conditions. SAMS supports 
60% of all healthcare in besieged Eastern Ghouta.
5. Medical missions.
Every year, volunteers donate their time and skills on medical missions to bring Syrian refugees treatment they deserve.Medical volunteers come from multiple specialties, including psychiatry, nephrology, dermatology, nursing, and others to ensure that Syrian refugees receive diverse and specialized treatment. In 2015 alone, we have organized 6 medical missions to the region.
6. Innovative use of telemedicine. 
SAMS provides critical ICU care in challenging areas within Syria, and the management of patients in intensive care units is complemented by electronic-ICU care, where critical care specialists in the U.S. use skype and internet videos to monitor patients remotely. Telemedicine is also used to teach and guide local physicians during surgeries.
7. Underground hospitals.
Hospitals and medical centers are targeted daily in Syria with missiles and barrel bombs. In response to the risk, hospitals have been forced underground to avoid harm to staff, patients, and equipment. SAMS helps to rebuild hospitals in basements, caves, and underground facilities.
8. Our winterization efforts. 
As winter approaches, fuel resources are diminishing, limiting basic hospital operations and families are unable to cover household needs. Winterization programs will prepare our facilities, their staff, and everyday citizens for the upcoming season through provision of basic necessities, such as fuel, blankets, and medicine. Last winter we provided 5,000 winterization kits to over 12,000 individuals.
9. Dental clinics.
Dental care can be hard to find, even non-existent, in many areas of Syria. SAMS operates 10 dental clinics that together treat over 70,000 patients Syria. SAMS recently named a clinic in the Al-Salam school in honor of the work of deceased Deah Barakat, Yusor and Razan Abu-Salha. In July 2015 around 40 dental volunteers fulfilled the Project Refugee Smiles mission, including Deah Barakat's father and brother.
10. Our far-reaching impact. 
Your contributions helped us reach 1.4 million Syrians in 2014 and over 2 million so far in 2015.
support dignified healthcare for Syrians in need.