April 20, 2017
Early in 2016, Tabarak Al-Jabawi lay waiting for surgery in Amman, Jordan. For five years, a malignant tumor on her wrist had grown in size. The tumor had followed her, from her hometown in Syria, to Al-Zaatari camp in Mafraq, Jordan. After years of pain and frustrating diagnoses, she was told by a Jordanian surgeon that she had no choice but to amputate her hand.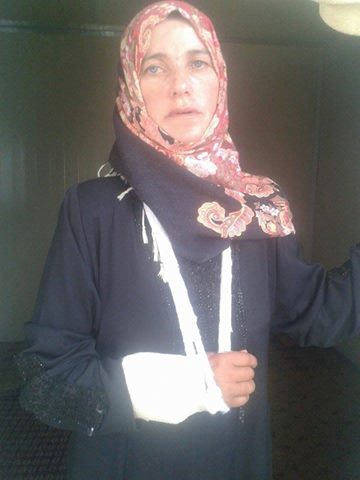 Minutes before she would be wheeled into the operating room, she received a call. On the other end of the line, a member of SAMS staff in Jordan brought her news from the United States. Dr. Hisham Bismar, a SAMS specialist, had been reviewing Tabarak's imaging and lab results. He had concluded that her hand could be saved.
Although she just narrowly avoided an amputation, Tabarak still faced a long journey ahead. When she told her surgeon the news from the US, he gave her an astronomical price of $140,000 USD to resect her tumor. It seemed that, for the moment, surgery was still out of reach.
Tabarak's story started long before this moment in an Amman operating room. Although she had escaped the conflict, she faced entirely new challenges in displacement. Her wrist tumor continued to grow in Al-Zaatari camp, where she lived with her husband and four children. The camp lacks specialized health services, and she could not cover the expenditure of the treatment.
In April 2016, though a SAMS medical mission, Tabarak met Dr. Hisham Bismar. He operated on her tumor, which was in Stage One of malignancy. The tumor was resected which left her with missing bones in her wrist. A long bar was fixed in the hand and a filler replaced the bone. Due to reoccurrence of the tumor, Dr Bismar had to wait to make sure that tumor did not occur again before the reconstruction stage.
It would be a year before Tabarak met Dr. Bismar again, during SAMS's most recent medical mission to Jordan from April 7 – 14. This time, Dr. Bismar returned with a plastic surgeon specializing in vascularized fibular grafts. Along with Dr. Wheatley and Alex Cornwall, Dr. Bismar performed the reconstruction of Tabarak's wrist.
Her surgery took over 5 hours, and when "the bone heals in the current position then it should restore part of the forearm motion she has lost," Dr. Bismar said.
After the operation, Tabarak left the hospital on April 14 to return to Al-Zaatari camp, where she was reunited with her children and husband.
As she recovers from the pain of the operation, and strengthens her newly cancer-free wrist, she will receive support from a SAMS doctor during the rehabilitation stage.
"I am wordless, they are great people. They treated me with respect, and cared about me. I was suffering for continuous 5 years, and no one helped me apart from them," Tabarak said of the treatment she received from SAMS volunteers and medical staff on the ground in Jordan.
"Because of them, I have hope in life, and will be in debt for them all my life." Tabarak said.