For Immediate Release
June 28, 2018
Washington, D.C.- Yesterday, June 27, at 4:00 pm local time, SAMS-supported al-Giza Hospital in Dara'a was targeted by six airstrikes, killing SAMS medical worker Mohammad Fahd, and severely damaging the facility. Three medical personnel were injured in the attack, including a lab technician and two medics, as well as 25 patients. The same day, airstrikes on western al-Ghariyeh killed another medical worker, Asaad Zoubi, who worked at a SAMS-supported blood bank in the town.
Due to the attack, Al-Giza Hospital's emergency department was completely destroyed, and the entire facility is now out of service. Giza Hospital was providing services to 200,000 people living in Giza and the surrounding towns. On average, SAMS medical personnel there treated approximately 10,000 patients per month, and performed 100 surgeries per month. Specialties offered included internal medicine, urinary medicine, orthopedic medicine, pediatric care, surgery, obstetrics, and more.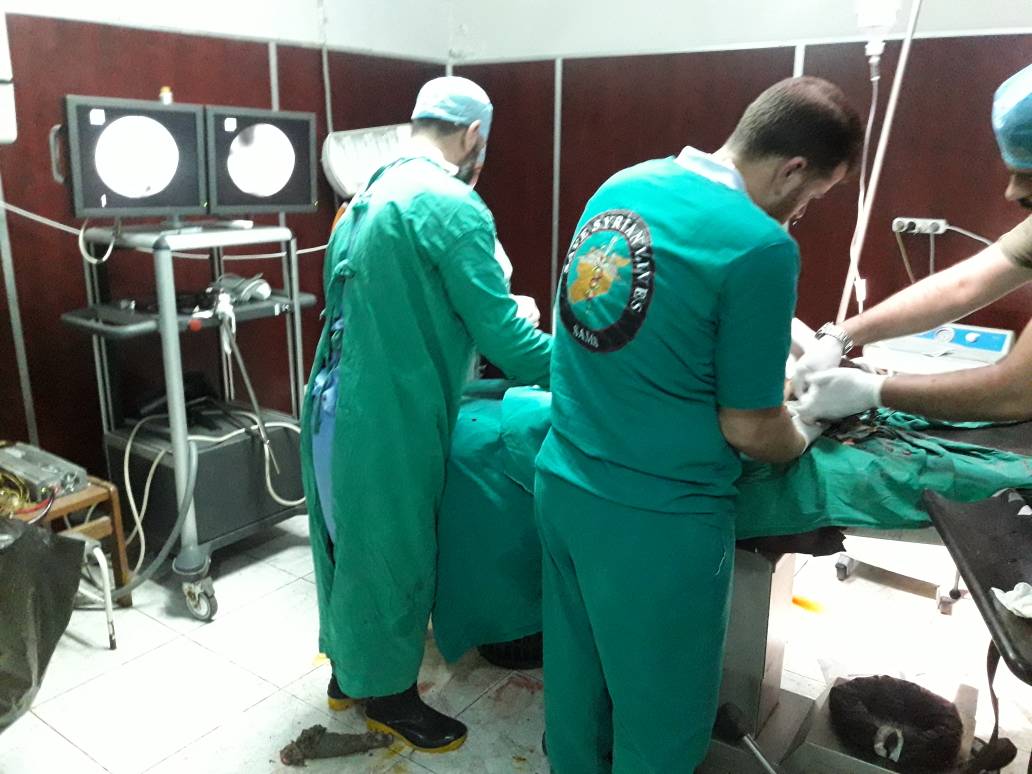 Since June 19th, Dara'a has experienced an escalation of aerial attacks, despite its designation as a de-escalation zone in an agreement brokered by the US, Jordan, and Russia in July 2017. Attacks on civilian infrastructure in the area have displaced thousands of residents fearing for their safety. According to SAMS staff, more than 270,000 civilians have fled violence in their hometowns across Dara'a since the start of the offensive. This movement has resulted in shortages of shelter, medicine, and food.
In addition to causing massive displacements, aerial attacks in Dara'a have directly targeted healthcare facilities, including five hospitals from June 24- 28. One hospital was targeted on two separate occasions in the same day.
"What is happening in Dara'a now echoes the horrors that we have witnessed in East Ghouta and East Aleppo. Civilians and medical workers have been targeted, and they have nowhere to go. Attacks on medical facilities continue with impunity, while the international community is standing by," said SAMS President, Dr. Ahmad Tarakji.
SAMS strongly condemns all attacks on civilians and health facilities, and demands the protection of medical workers. These blatant attacks on healthcare constitute grave violations of medical neutrality, crippling Syria's medical infrastructure and preventing patients from accessing care. The guarantors of the de-escalation area must fulfill their roles of protecting civilians and ensuring sufficient humanitarian access.
For media inquiries, contact Lobna Hassairi, SAMS's Media and Communications at [email protected].