More than twelve years of conflict in Syria have pushed millions of Syrians into poverty and displacement, while also decreasing their access to primary and secondary health services, including cancer care. Amid ongoing conflict and displacement, cancer patients in Syria struggle to access care and are more likely to be diagnosed when their disease has already reached an advanced stage, making treatment more difficult and reducing their chances of survival. Moreover, the destruction of healthcare infrastructure caused by the devastating February 2023 earthquakes in Türkiye/Syria, has meant that cancer patients living in Syria that had once been able to travel to Türkiye to receive radiation therapy and immunotherapy are no longer able to do so.
In northern Syria, SAMS is the only NGO providing a full range of cancer services, including lab work, diagnostic tests and mammogram screening, surgeries, cancer medications, and chemotherapy, free of charge to patients with breast cancer, lymphoma, colon cancer, gonads cancer, and pediatric leukemia, and infusion services for other types of cancers. Within a six-month period following the earthquakes, SAMS-supported Idlib Oncology and Hematology Center has received 14,195 patient referrals for cancers and blood disorders, an exponential increase, due to the patients' inability to access life-saving treatment in Türkiye. inability to access life-saving treatment in Türkiye.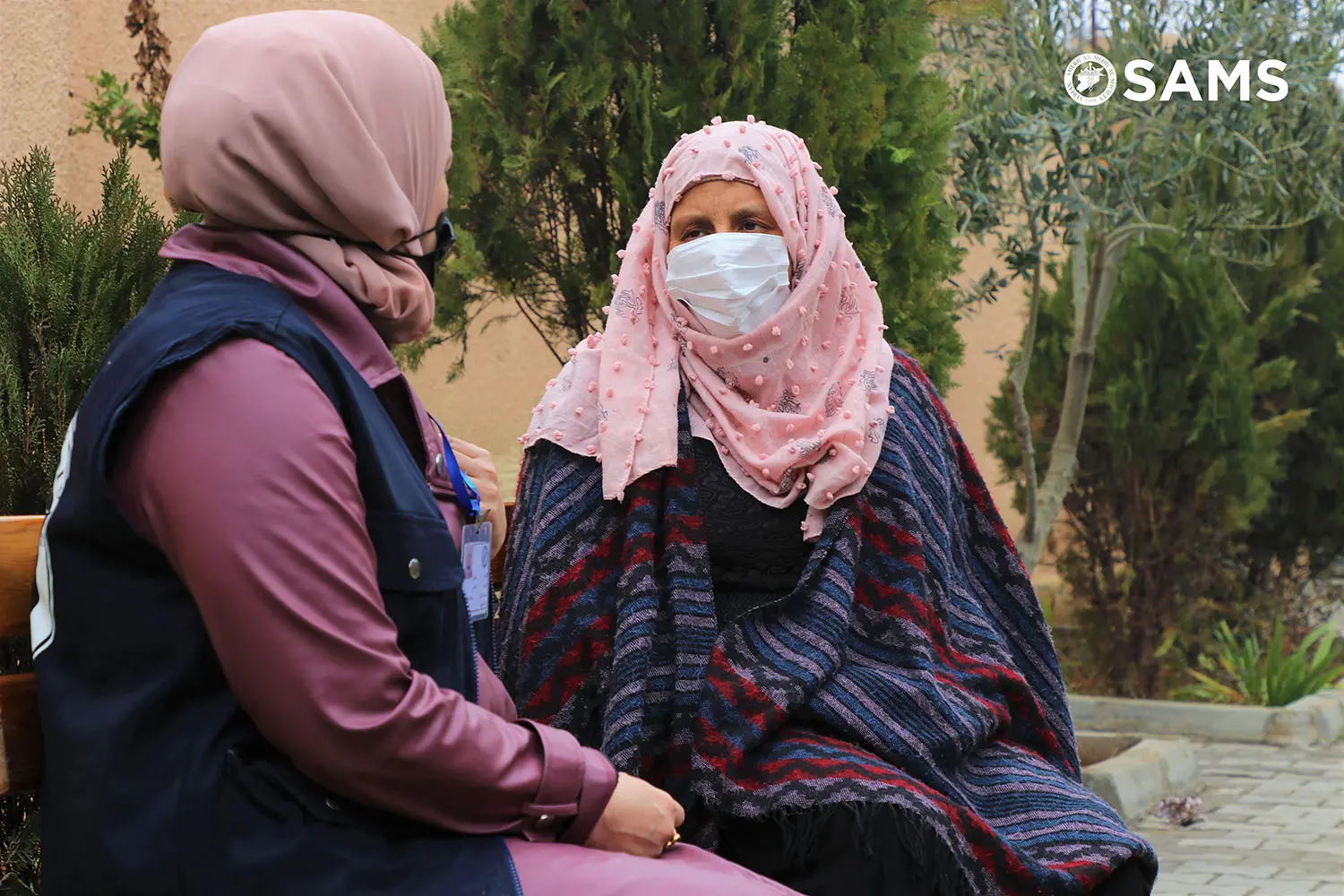 SAMS is filling the critical gap in cancer care and providing more than 1,000 cancer consultations per month at 4 specialized cancer centers in northern Syria, including Oncology Departments at Idlib Central Hospital and Bab Al-Hawa Hospital, and oncology units at Jarablus Primary Health Care Center (PHC) and Al Bab PHC. A dedicated SAMS committee of over 20 specialists in adult, and pediatric oncology and pathology is always available for consultation and advice on the management of challenging and advanced cases and sharing up-to-date medical information.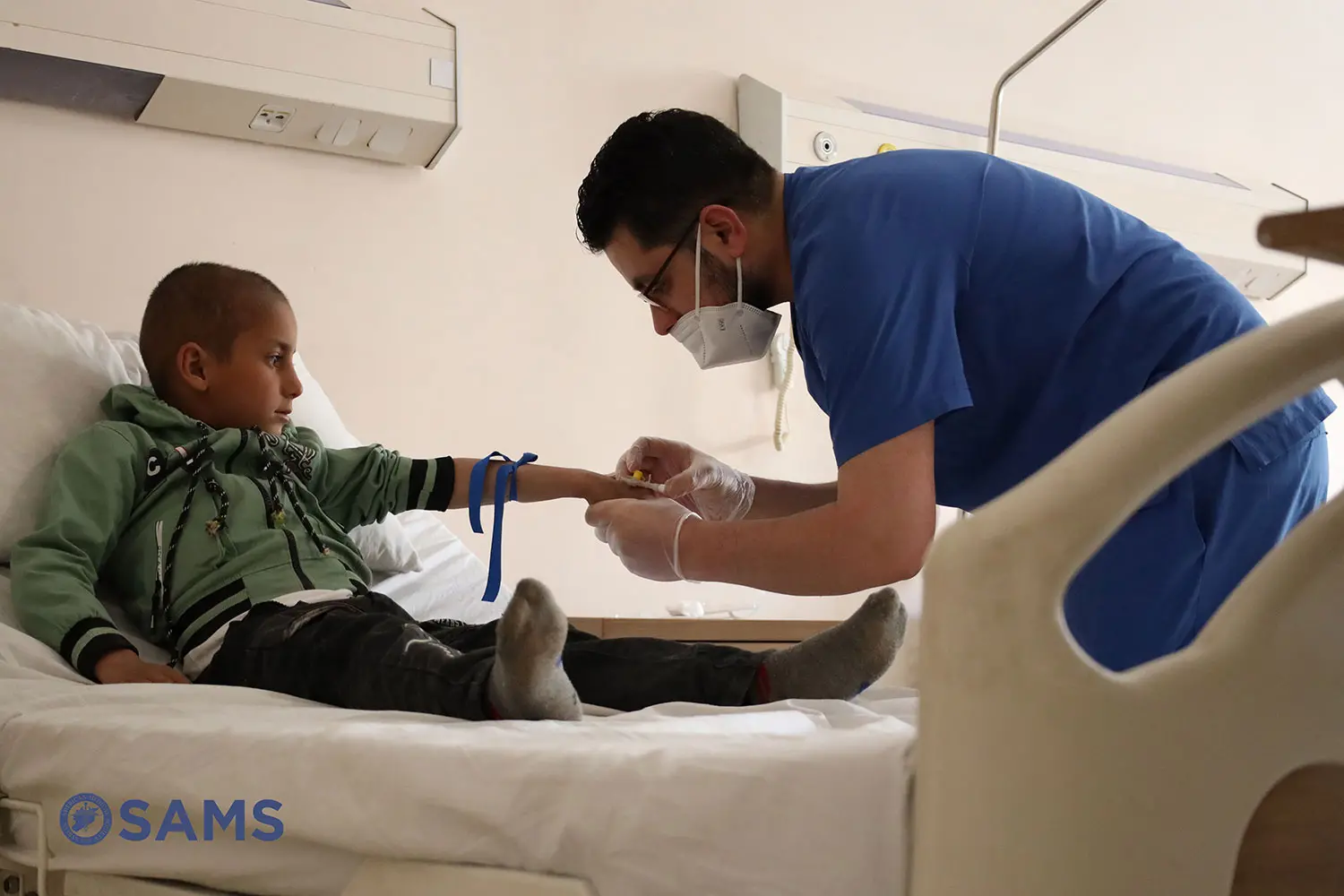 Recently, we treated Mohammed, age 6. Mohammed was referred to the oncology unit at SAMS-supported Al Bab PHC and was diagnosed with acute lymphoblastic leukemia, a severe form of blood cancer. Oncologist Dr. Mahmoud Al-Darwish and his team developed a comprehensive treatment plan for Mohammed that began with an intensive induction phase followed by a longer consolidation phase.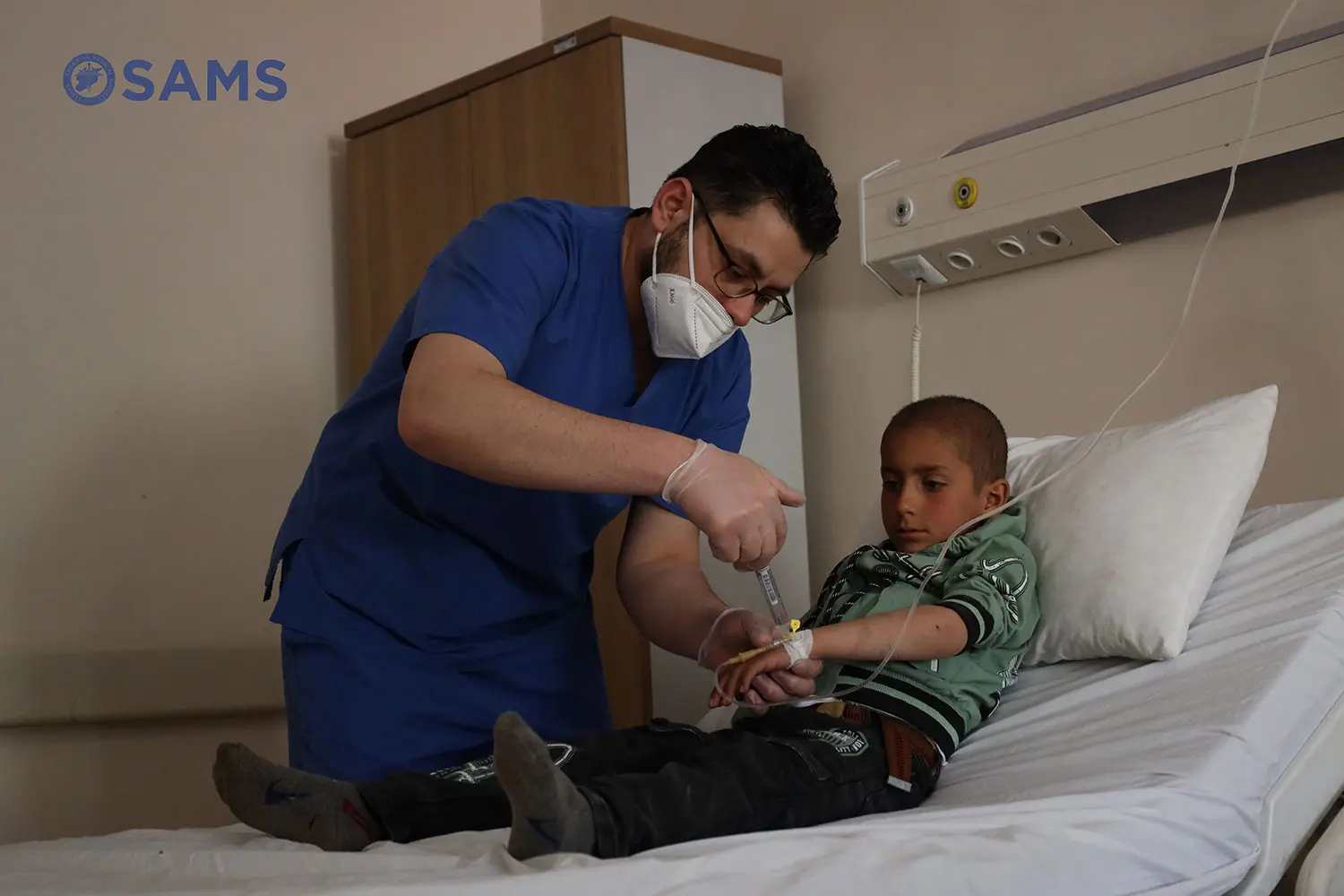 After eight months of battling cancer, Dr. Al-Darwish described Mohammed's progress, "Having successfully reached the maintenance treatment stage, Mohammed's dedicated journey is set to continue for two years. At present, his response has been outstanding, and he is now in the final stages of his remarkable recovery."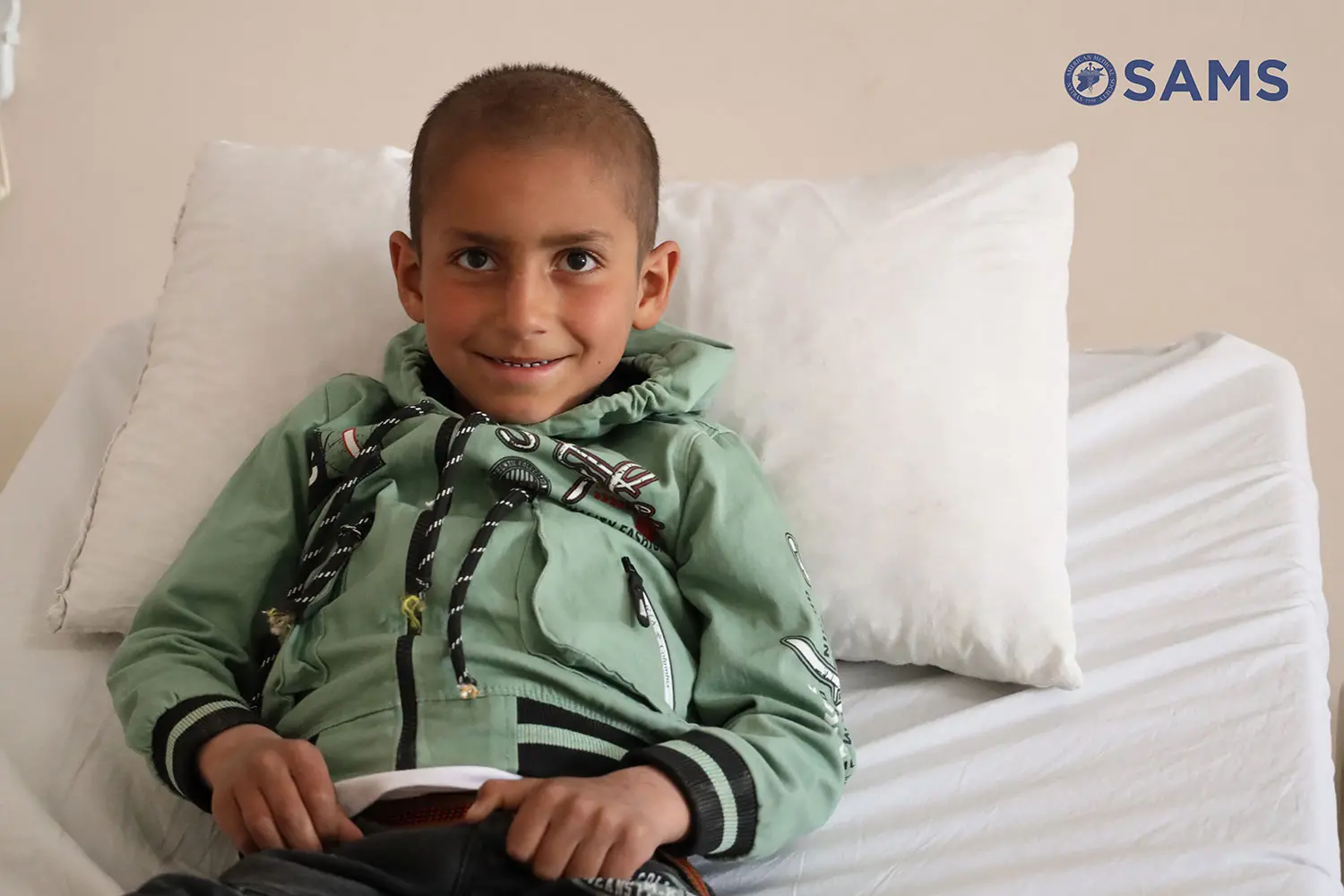 Mohammed's father described how he felt when he first learned of his son's cancer diagnosis, "The weight of the world seemed to bear down upon me," he said. "Yet, my faith in a higher power remained unyielding. We are so grateful to have a SAMS Oncology Center nearby to provide the care Mohammed needs. Today, after an arduous 8-month battle, our doctor joyfully shared the news of my son's remission, and assured us that he is now in the preventative phase to ward off any potential relapses."
Thanks to the unwavering support from members, volunteers, and donors like you, SAMS is on the frontlines of this crisis providing dignified and comprehensive cancer care free of charge to conflict-affected populations, while continuing to build oncology/hematology capacity and improve the quality of care.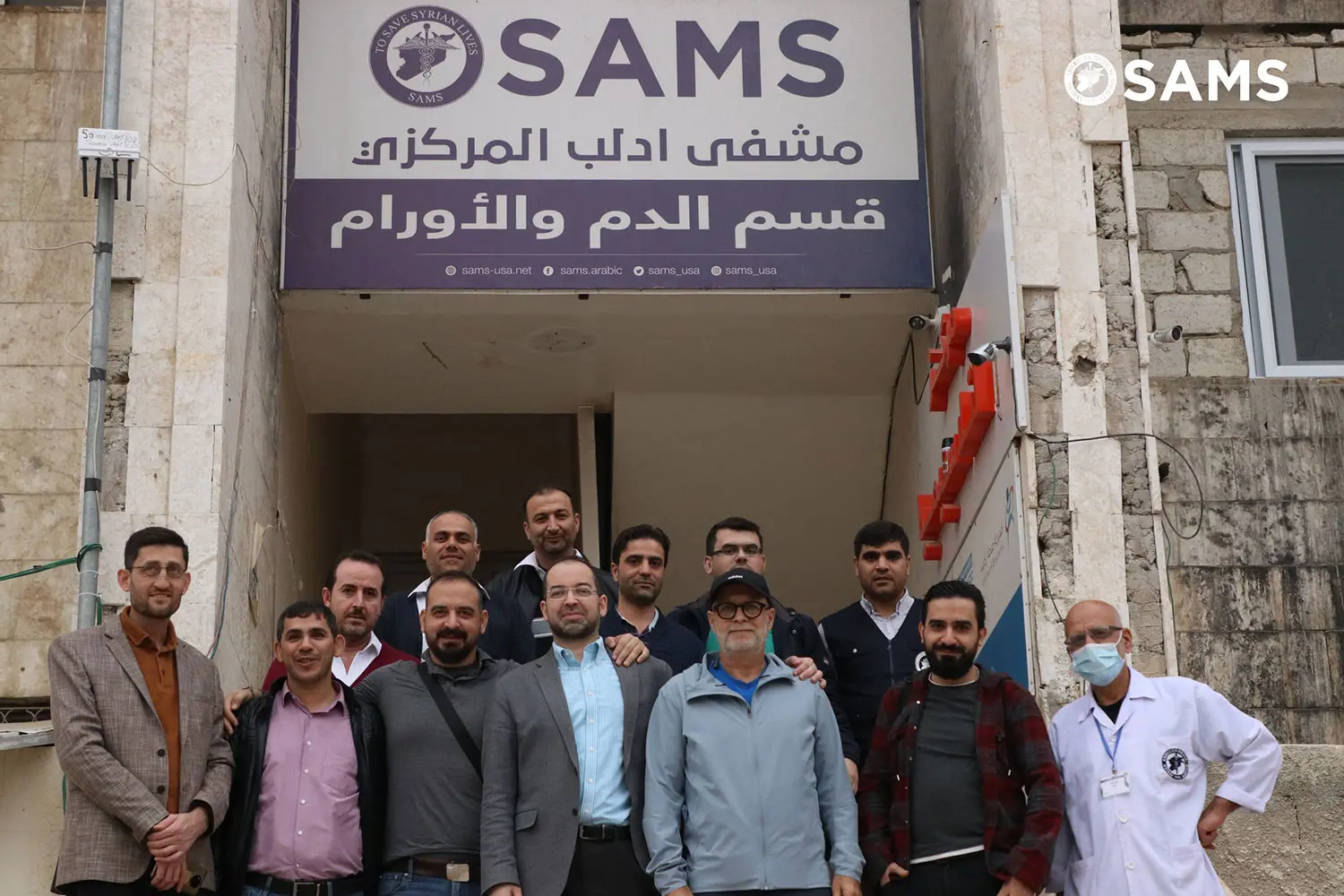 SAMS' tireless members, who are practicing oncologists and pathologists, continue to provide remote and in-person support, deploying to northwest Syria in the days, weeks, and months following the earthquakes and planning to travel to Syria again to lead training and provide cancer care to patients in need.
Please help us deliver dignified, quality medical care to cancer patients inside Syria. Your tax-deductible donation will help children like Mohammed conquer cancer and go on to live healthy and abundant lives.
Select "Oncology Fund" from the pull-down menu