In 2015, SAMS programs in Turkey treated 54,313 beneficiaries.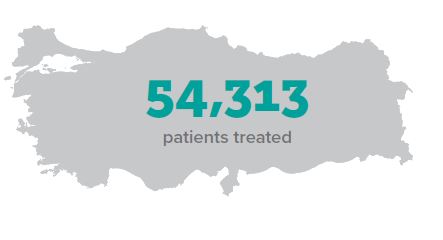 SAMS's work in Turkey provides relief for both Syrian refugees and Syrian medical personnel who travel between Turkey and Syria. Additionally, SAMS operates several dental clinics and a pediatric clinic, and sends frequent medical missions to Turkey. Medical training programs, which take place every three months, ensure that healthcare workers inside Syria are able to stay up-to-date on medical skills and techniques needed to save lives. Medical workers receive training in areas such as trauma care, gender-based violence recognition, and specialty care like dialysis.
In 2015, SAMS completed its 19th Critical Care Training course. To date, this program has trained more than 770 physicians, nurses, and medical technicians.
The eight dental clinics supported by SAMS in Turkey operate close to several refugees camps. Additionally, SAMS supportsa dental clinic for children in the Al Salam school in Reyhanli, named the Deah Barakat Dental Clinic. This clinic honors the memory of Deah Barakat and his wife Yusor Abu-Salha, students from University of North Carolina Chapel Hill's School or Dentistry who were killed in February 2015. Since its founding, the clinic has treated more than 9,000 patients, all of them
children. Dental volunteers have completed the second year of Project Refugee Smiles to continue the work of these true humanitarians.