In Turkey, SAMS leads a number of relief operations and oversees our operations in four governorates in northern Syria, including Idlib, Aleppo, Homs, and Hama. In 2017, SAMS provided 45,731 medical services to refugees and vulnerable individuals living in Turkey.
Cross-Border Support:
SAMS strives to keep its facilities well-equipped, stocked, and ready to respond effectively to crises throughout the year. SAMS Turkey office plays an instrumental role in managing and implementing our cross-border operations to deliver medical supplies and equipment to our facilities in northern Syria, serving a population of nearly 1.5 million. Additionally, SAMS Turkey office manages a network of warehouses in northern Syria. SAMS supports its medical facilities inside Syria with fuel, medications, blood bags, surgical sets, dialysis supplies and equipment, incubators, X-ray machines, and CT scans.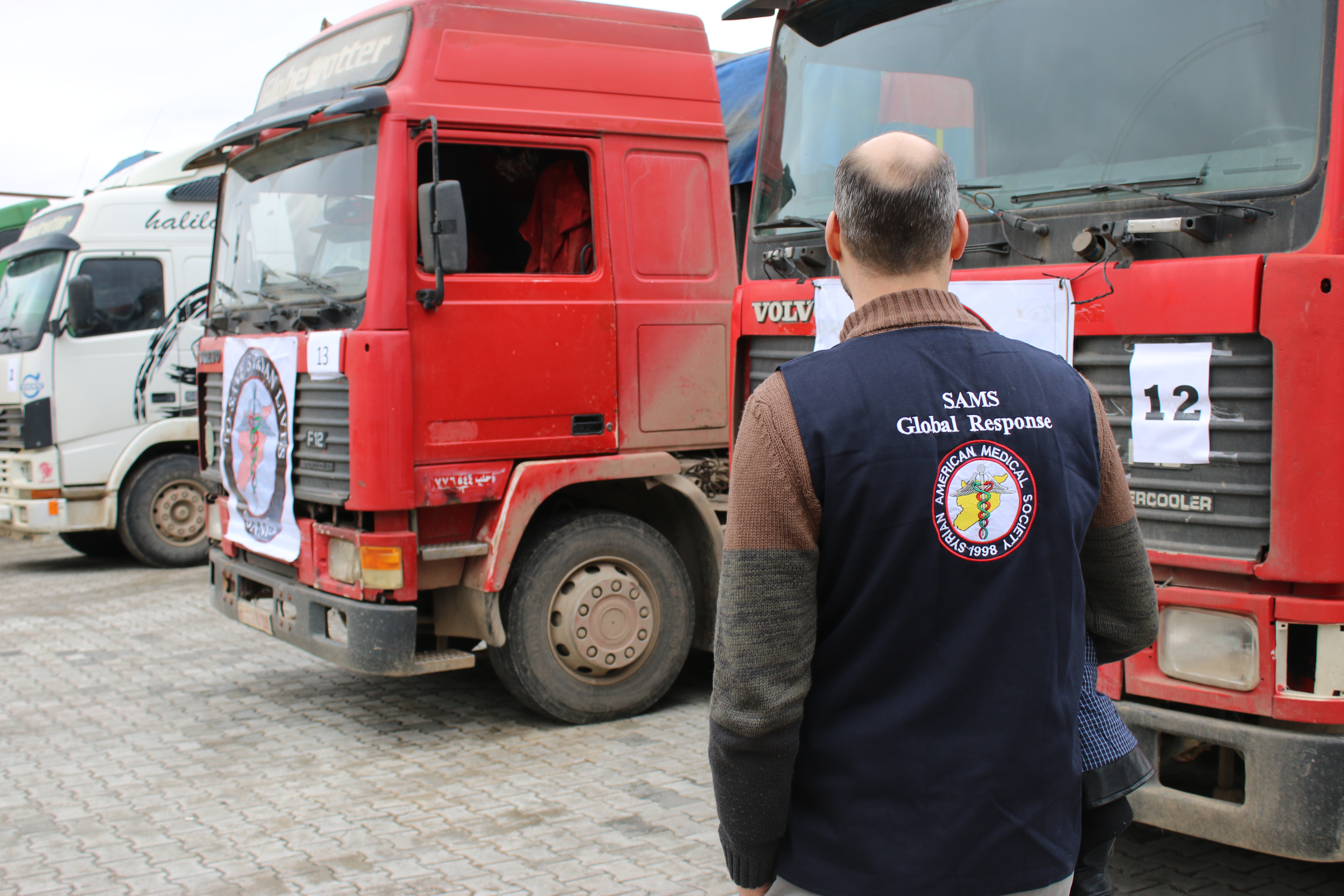 El-Emel Hospital:
Since September 2017, SAMS has supported El-Emel Hospital in Reyhanli, Turkey. It is the only hospital run mainly by Syrian NGOs and Syrian doctors with prior approval from the Turkish authorities. The hospital provides primary health and specialized care- including GI endoscopy, ENT, trauma, specialized surgeries, and more- for free to Syrian refugee patients. From September- December 2017, SAMS supported 19 medical workers and provided 11,151 medical services, including 1,500 minor surgeries, 444 major surgeries, and 6,236 PHC services.
Additionally, SAMS organizes and facilitates medical missions to El-Emel Hospital in 2017, bringing highly-skilled medical professionals and surgeons from the U.S. and abroad to treat complicated surgical cases. These missions benefitted 141 Syrian refugees who underwent surgeries.
Dental Care:
The SAMS dental relief program in Turkey started in September 2012 that consisted of only one portable dental unit and two suitcases of dental tools and supplies brought from the United States to establish our first dental clinic in Turkey for Syrian Refugees. Since then, SAMS has expanded its dental services in Turkey. Currently, SAMS operates six dental clinics inside and outside refugee camps located in Istanbul, Gaziantep. Reyhanli, and Kilis. In 2017, these clinics provided 35,480 vital dental care services for Syrian refugees living in Turkey.