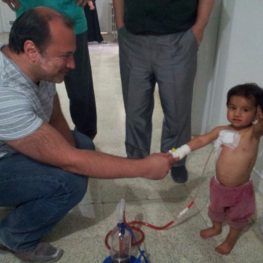 In Syria, people live in constant fear and uncertainty. The fear of not knowing what is going to happen in the next day, in the next hour, or even in the next minute. Every day in Syria, critical civilian infrastructure is being targeted. Schools, markets, and hospitals are routinely destroyed in attacks. This Monday, February 15, was no different: Five hospitals, including two supported by SAMS and one supported by MSF; an OBGYN/ neonatal clinic; and a school were brutally attacked in the provinces of Idlib and Aleppo. Unfortunately, this has become a typical day in Syria.
The day began with a missile hitting the Azaz Hospital, one of the largest OBGYN/ neonatal clinics, located near the Turkish border. Ten civilians, including three children and a pregnant woman, lost their lives.
Shortly after, air-to-surface missiles hit an MSF-supported hospital in the city of Ma'arat Al Nu'man, Idlib. Forty minutes later, as first responders worked to rescue the wounded, the hospital was struck again in what is known as a 'double tap'. The intent was to target the rescuers and medical personnel as they worked to save victims of the first attack. 14 people, including dedicated nurses and doctors, died in the aerial attack.
Many of the wounded were rushed to the SAMS-supported hospital in Ma'arat Al Nu'man to receive treatment. However, this facility was struck by air-to-surface missiles only an hour after the attack on the MSF facility, decimating the ability of doctors to treat the wounded. Four more civilians were killed and three medical staff, including two nurses in training, lost their lives. One nurse was only 17 years old.
The fourth air-to-surface missile attack occurred in Abo Aldohour, Idlib, hitting a SAMS- supported facility, killing three civilians and injuring four others.
These attacks can only be described as deliberate. Each hospital destroyed and each doctor or nurse lost, further deprives Syrian civilians of the medical care they deserve. The loss of health care workers is not only an individual tragedy but a communal one. That is one less health care provider to treat the wounded, heal the sick, and care for people. Today there are fewer doctors in the SAMS-supported facilities in Idlib to care for a population of over 200,000.
Each attack further damages an already crippled health care system in Syria. The destruction of facilities, and the loss of health care providers due to flight, have greatly eroded Syria's health care. According to the Syrian Center for Policy, lack of access to adequate health care, the spread of disease, and the lack of medicine and supplies are responsible for the death of 70,000 Syrians. With each doctor or facility lost that number will only continue to grow.
These attacks on civilians, hospitals, and schools must end.
A pregnant woman should not have to consider risking her life to seek necessary care for fear of the hospital being attacked.
An aspiring nurse should not have a target on his/ her back because he/ she has chosen to save lives.
A student should not be scared to go to school.
Attacks on hospitals and schools should not be considered the norm.
Despite all the horror of the war and the vicious attacks, the resilient people of Syria continue to survive. Within 48 hours of these devastating attacks, the SAMS-supported facilities in Idlib returned to treating patients and continued to work tirelessly to save lives . It is a testament to the bravery and dedication of SAMS's medical personnel that they continue to risk their lives to save others.
We need to protect our doctors and their patients.
The international community must take a stand to end attacks on health care facilities, uphold the principles of medical neutrality, and allow doctors to do their job. Stop the sieges and the bombing. Let the sick and wounded receive necessary care. We demand civilian protection. Do not abandon the Syrian people to suffering.