February 10, 2015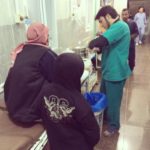 I just returned from a field visit to our projects in Halab (Aleppo) and Al Zaatari Camp in Jordan. I would like to share my observations ahead of our 4th Annual National Conference, and ask you to support the noble work that our courageous and talented doctors and nurses are doing generously.
 In Halab, SAMS has rebuilt our flagship trauma hospital underground to protect our patients and staff from bombing. We are honored to support such courageous staff who work day and night under extreme conditions to save lives. During my stay, I witnessed a young boy, Jomaa, who was the only survivor of his family after he lost his two sisters and parents in a barrel bomb attack that leveled his house. Our surgical team worked tirelessly for three hours to repair a huge defect in his abdomen and control the bleeding. His life was saved.
In Al Zaatari Camp in Jordan, I visited SAMS's polyclinic that has become the largest clinic in the camp. In 2014, our doctors served 122,000 patients, which is half of all patients that were served in the camp by its nine medical centers. Our doctors are the best in their speciality. We provide free medical care, comprehensive labs, basic radiology, free medications, and referral service for surgeries. We have the only Leishmania clinic, eye clinic, and neurosurgery clinic in the camp. We have three dental chairs that were established by our dental group. The camp authorities were very appreciative of our doctors and our services.
I urge you to support these two vital projects, not because they need you but because we are honored to serve them. Please consider pledging a monthly contribution of $500, $1000, or $2000 for sustainable relief. Thank you.
Sincerely,
Dr. Zaher Sahloul
President, Syrian American Medical Society