April 21, 2015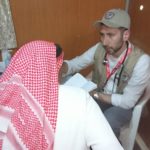 The Last Day:
Day 6 began with a rude awakening. Overnight a cold front swept in from the west, turning the dry warmth of 70's Fahrenheit into cold sludge. The temperature bottomed out into the mid 40's, slowing the metabolism of the camp. Within the first drops of rain, one of the difficulties of Zaatari was made manifest; none of the roads in the camp are paved, and the roads become a slush that draws down every tire and shoe. Mud is inescapable.
The difficulty of movement and
the desire for warmth had an expected effect upon attendance. Fewer patients were willing to wait (exposed to the elements) in the waiting area, but those who did were ones in need. A greater number of patients had true infections or conditions of concern; among them a trembling young mother whose three year old suffered blunt abdominal trauma from falling cinder blocks. He had been taken to another hospital in the camp where X-rays were read as normal, but the doctors had given the mother paperwork in Arabic instructing her to come to our facility immediately for an abdominal ultrasound to rule out internal bleeding. "Immediately" was in his case 18 hours, as the doctors who can perform this procedure do not stay overnight. Examining him, I found a tender and bruised abdominal wall, but not a surgical (or "acute") abdomen; while he didn't enjoy my examination, he passed the time nibbling on a chocolate wafer. After discussion with Dr. Majd Isreb, (our ultrasonographic expert and Mission Leader) we reassured his mother that his condition was not life threatening and that he was OK. Fifteen minutes later, she reappeared in my exam room, in tears mixed with guilt and concern. The cold having granted me the luxury of time, I sat her down and, smiling with my softest voice, calmed her with my confidence that his condition was stable and that he should be able to bounce back in a couple of weeks. What I left unsaid was that if he had suffered an internal hemorrhage, the lack of access to acute care in the camp would almost certainly have meant that he would not have survived the night.
It is with this mix of melancholy and hope that I come to the end of this trip. Many of you whom have graciously supported me and our mission have mentioned that I am providing care these refugee would not have been able to achieve otherwise. While that is true for many of the subspecialties (including our excellent and dedicated surgeons, dentists, and psychosocial support staff), the pediatricians and primary care providers among us met highly skilled and committed physicians who taught us more than we taught them. They, and indeed all the staff at AMR Hospital, provided me with a feeling of exuberance and hope that the potential for the welfare of refugees still exists. Confronting them, however, is the cold reality that they are still restricted in movement, education, and opportunity.
If I bring any benefit to the refugees of Zaatari (and indeed, to the millions of Syrian refugees barely ahead of them now scattered across the Middle East) it is in appealing to you that we help them move towards the basic level of humanity we believe all people deserve.
I, God Willing, will be back. I want to be here to see them when they get there.