March 8, 2016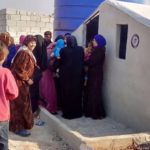 On February 15, a pregnant woman seeking care at the Azaz Hospital in Aleppo died along with nine other civilians when the hospital was targeted by missiles. The hospital, one of the largest OB/GYN clinics in Northern Syria, was destroyed.
Destruction of women's health facilities is one of the reasons for the dramatic decline in reproductive services in Syria. The decrease in female staff and the prioritization of trauma and critical care due to the increased violence of the conflict have all contributed to the reduction of women's access to health care. As a result, Save the Children estimated that in 2014, less than 25% of women inside Syria had access to reproductive services. Those living in besieged areas had almost no access at all.
With limited or no access to a hospital or clinic, many women have been unable to receive critical care during pregnancy or family planning services. Women have no place to obtain prenatal care or assistance at the time of delivery. Any assistance they are able to receive is often improvised due to limited medical resources. Providers have to use vacuums in lieu of forceps and gynecological tables instead of delivery rooms. Prior to the conflict, many Syrian women had access to midwives. Now, the closest midwife might be 20 to 30 minutes away. To reach them, women must navigate insecure roads and government checkpoints. Many Syrian women choose to risk the dangers of an unassisted birth rather than attempt the perilous journey to a midwife. Without safe access to care, women deliver their children unassisted, with the knowledge that if there are any complications the nearest hospital is 50 to 60 kilometers away and they may not reach it in time to save their life or the life of their child.
Giving birth in a hospital in Syria is often as dangerous as unattended birth. One doctor recounted the difficulty of delivering a child when hospitals are one of the primary targets of missiles and barrel bombs. "We witnessed a woman giving birth on the doorstep of a hospital" Dr. Faris recounted. "When the building was hit, my colleague was providing care and he was trying to deliver the baby. At the first hit the hospital had to be evacuated as they knew there would be a second hit. They carried the woman outside and they delivered the baby just outside the main door of the hospital. They managed to get away but the hospital was flattened. They survived, but giving birth at the door of a hospital under such stress is indescribable." As a result, women have turned to cesarean sections (c-sections) to reduce their time in labor in an insecure location. In 2015 alone, SAMS facilities in Syria performed more than 8,500 c-sections. In 2011, c-sections only accounted for 19% of births. Since the conflict began, that number has more than doubled to 45%. In besieged areas that numbers has risen even higher with 75% births through c-section.
Though c-sections reduce the chance of being caught in an attack such as the one on February 15, they have their own serious risks for both the mother and her child. This major abdominal surgery can result in infection, complications, blood loss, blood clots, require additional recovery time for the mother, and increase the likelihood of premature birth and breathing problems for the child. The risks of a c-section are compounded by the lack of medical personnel, supplies, and infrastructure in Syria.
The risk of giving birth in Syria is a major driving factor of displacement. Pregnant women cross into Lebanon hoping to receive prenatal care and some assurance that their baby will be healthy. However, reproductive care in Lebanon is not much better for Syrian women. Women arrive only to find they cannot afford medical care or do not have the resources to find affordable care. Unable to pay for reproductive services in Lebanon, some Syrian women return to Syria to take their chances giving birth in a warzone. Doctors Without Borders (MSF) talked to one woman who came to Lebanon during her second pregnancy. During her first pregnancy in Syria, she lost her child due to high blood pressure and was desperately seeking care. She took a 45-minute bus ride to a doctor she could afford only to find there was a problem with the baby and she would need to return for a second visit. Unable to afford the second visit, she returned to Syria to give birth before MSF could help her. Those who stay in Lebanon are immediately discharged after giving birth as they are unable to afford the hospital fees. A quick discharge means women are denied important information about infant care. Many women leave before learning how to properly breastfeed their child which has resulted in an increase in cases of infant dehydration.  
Despite the overwhelming gaps in care for women, there is still hope. MSF has opened a facility in Bekaa Valley to meet the health needs of Syrian women. They received 800 patients in its first month. SAMS currently supports 12 referral hospitals and OB/GYN centers in five different governorates. These hospitals treated over 30,000 patients in just three months. In total, 50% of SAMS's beneficiaries are women. "At these difficult times the Syrian women face the biggest challenges," said SAMS's President, Dr. Ahmad Tarakji. "They are the source of strength, dignity, and hope for the upcoming generations." The women of Syria deserve access to quality medical care.
The work of SAMS and MSF is a step in the right direction and provides much needed care for those it can reach with SAMS providing services for more than 1 million women in Syria and the surrounding countries.  However, Syrian women and their health cannot be forgotten in the conflict and must be a priority for the providers in and around Syria.