April 28, 2016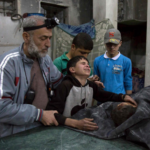 On Wednesday, April 27, the Al Quds field hospital in Aleppo was hit by a targeted airstrike, killing at least 30 people including 2 health workers, injuring at least 60 people, and completely destroying the facility. At this time, emergency first responders are still digging bodies out from the wreckage. The humanitarian situation in Aleppo is dire, with civilian infrastructure aggressively targeted through aerial attacks and the threat of impending siege around the city.
The following are reflections directly from Dr. Abo El Ezz, SAMS's Aleppo Coordinator and general surgeon.
"What's happening in Aleppo is horrendous. It is a disaster. It is very hard to explain. It is emotionally draining and exhausting.
This is a massacre at a city level. It's a slaughter in every sense of the word.
Shelling and bombardment. Planes in the sky are competing to kill civilians and innocent people. They are targeting areas and places where civilians gather.
When people walk the streets of Aleppo, they sense flames coming from the walls and from the stones. They see blood, destruction, and killing. People are scared and terrified. Very hard to describe. Hospitals are crowded with injured people. The medical personnel are exhausted, bewildered, and helpless.
The city is bleeding. Shelling and bombardments have destroyed everything. No life is left. Families are losing family members. Their children are injured. Their homes are demolished. Everyone is living in hell these days.
Everyone is scared. Everyone is terrified. People are fearing the different scenarios that could happen. They are fearing the siege. They are fearing military raids. They are fearing the no end to this horrendous situation in the city. They are fearing it will aggravate.
No actions from anyone have been taken to stop this tragedy.
The medical personnel are exhausted and scared. What happened yesterday was an unprecedented crime. A dentist and a pediatrician were killed in addition to 30 to 40 other civilians. Children are still being pulled from under the rubble. This is just a glimpse of what's happening here on the ground.
The war in Syria has violated and destroyed anything called "agreements" or "an agreement" or "human rights" or anything humanitarian.
The medical personnel's dream is to be able to work in a safe environment, so they can perform their duties and care for the sick and injured.
We suffer a shortage and a lack of coffins available in hospitals. These days we are using more and more coffins. People are dying around us in a great number. Today we had a crisis. Hospitals are looking for coffins because people are pouring in, some are completely burned and soon die. We needed to bury them.
Many people are being buried with no identity. People are losing their children and they don't know where they are or where they are being buried.
We had a completely burned patient. All black. His family couldn't identify him. We buried him without knowing who he was.
The weapons being used are of a massive destruction dimension. They burn stones. Imagine children being killed under these aerial strikes.
Many Aleppo residents can't leave. They can't afford the cost of migrating somewhere else.
Some people wish to die so they can finally rest and not live in constant terror and see constant destruction. They want to die and be done.
For many people here, dying is their undeniable fate. Everyone is waiting for his turn to die and stop living in this constant terror, fear, and demolition."