November 12, 2020
In northwest Syria, SAMS operates a number of mobile clinics that travel to IDP settlements to provide primary and specialized care to vulnerable individuals. Each mobile clinic includes a physician, a pharmacist, a midwife, a social worker, and a nutritionist.
We recently caught up with Dr. Khaled Al-Omar, a SAMS physician working at one of our mobile clinics in Idlib. In this interview, Dr. Khaled sheds light on the importance of mobile clinics in northwest Syria for the displaced.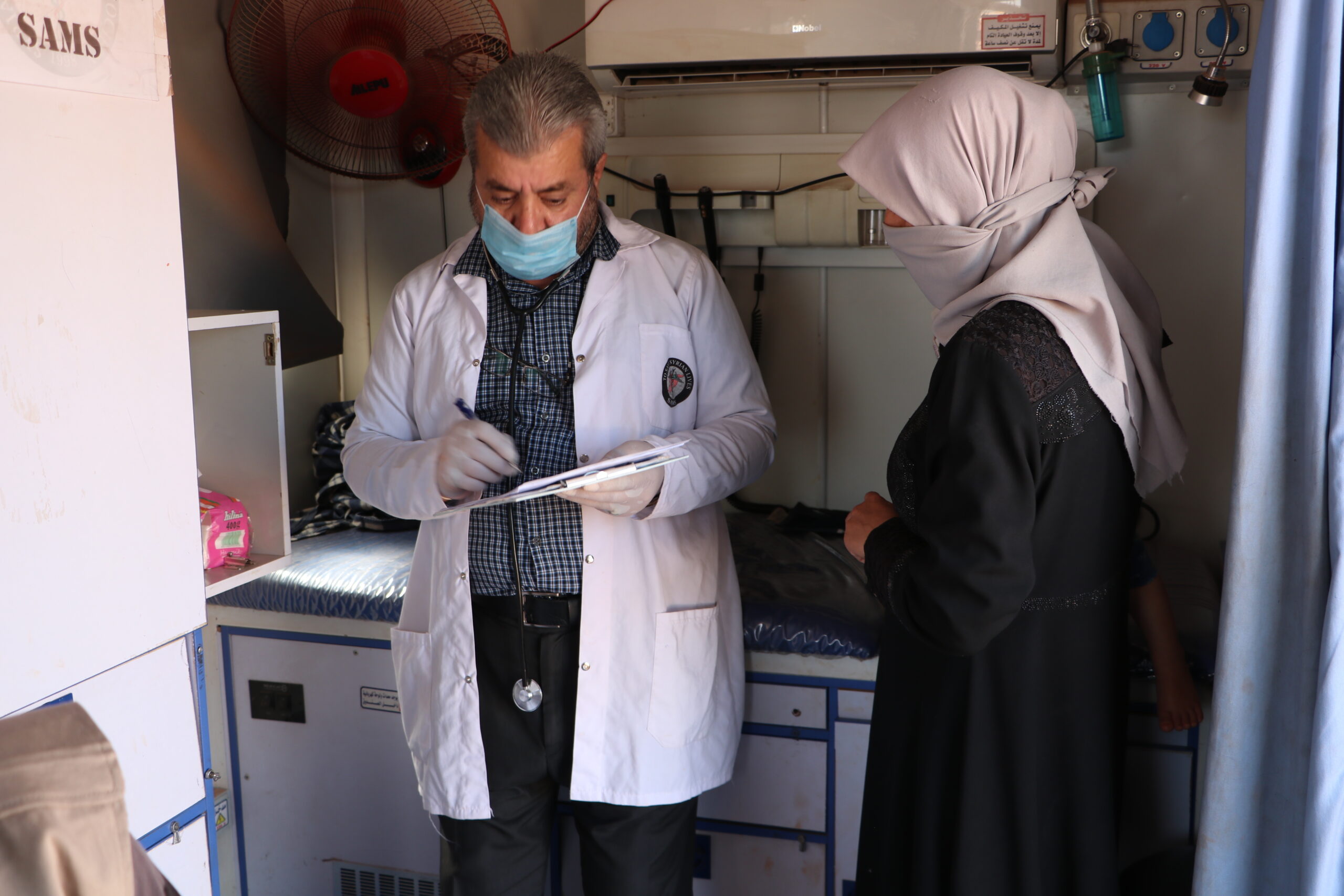 Tell us about the mobile clinic you operate in northwest Syria. What do they include in terms of personnel? What services do they provide? What's the impact?
SAMS launched its first mobile clinic on January 1st, 2014, in eastern Hama. These mobile clinics offer a range of services, including internal medicine, pediatrics, dental, and OBGYN services, in addition to having a nutritional specialist and pharmacist with us at all times. The mobile clinics travel to hard-to-reach areas, mainly where there is a large concentration of internally displaced persons (IDPs) living in camps and informal settlements throughout the region. We offer ongoing primary healthcare and specialized services, all free of charge, for patients with chronic diseases, malnourished children, and women suffering from gynecological conditions. We have also performed tooth extractions. These clinics include well-stocked pharmacies, including prescriptions for all sorts of chronic diseases (such as diabetes, asthma, hypertension, and other cardiovascular conditions). We provide medications and prescription refills for free. The key advantage of these mobile clinics is that they provide all these different services at informal displacement settlements for patients who can't travel to medical facilities to seek the care they need. Through these mobile medical units, we try to fill some of the most pressing gaps in medical provision for the displaced and vulnerable populations who struggle to access care. These mobile clinics have saved countless lives over almost a decade of ongoing conflict.
What are the most prevalent medical cases/ conditions you have encountered through these mobile clinics?
The most common conditions we encounter regularly are infectious diseases, such as pneumonia, pharyngitis, bronchitis, and tonsillitis in children as well as adults. These cases are due to difficult and unsanitary living conditions and lack of access to clean drinking water. Other common diseases we have seen include chronic diarrhea, abdominal pain, and urinary tract infections. Many patients develop chronic conditions in these environments, including asthma, hypertension, and diabetes. All of these conditions are treated at our mobile clinic. It's not a one-off service that we provide; we conduct follow-up visits and continue to monitor these cases.
Describe your typical day at the mobile clinic.
The mobile clinic team starts at eight in the morning following our daily meeting to walk through the plan for the day and the sites we will be traveling to. As soon as we arrive at the IDP camp or settlement, we meet with the camp's leader who provides an overview and announces the arrival of the mobile clinic to the camp's residents. As people gather to receive treatment, a designated team member assesses each patient's condition and directs them to the appropriate specialist on our team. Each patient then takes their turn to visit with the doctor, after which they take their prescription over to the mobile pharmacy located in the back of the team's vehicle. Once we are done examining and treating patients, we wrap up. It's usually around three in the afternoon. We drive back to the hospital to restock and prepare the mobile clinic for the next day.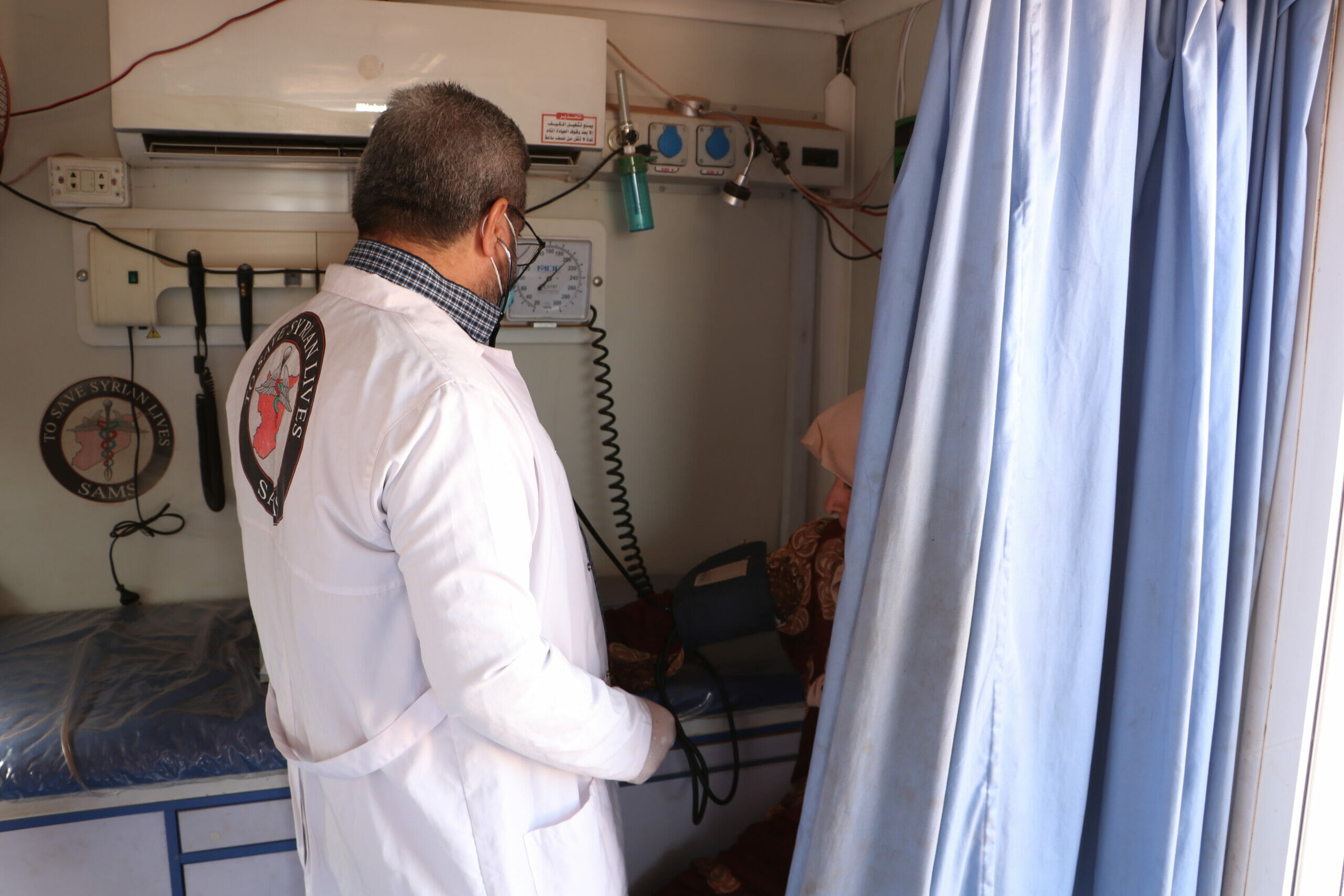 How is it now during the COVID-19 pandemic? Has the work of these mobile clinics increased or decreased? How are they adapting during these challenging times?
In the midst of the COVID-19 pandemic, the work of the mobile has thankfully not been interrupted. In fact, it has been expanded to ensure that those in need to receive services. However, we are facing a lot of additional challenges and an increased workload. We work additional hours to conduct awareness-raising sessions with members of the community to help them protect themselves and mitigate the spread of the disease. We emphasize the importance of social distancing, wearing a mask, and constant hand washing, but it's nearly impossible for most to adhere to these measures given their overcrowded living conditions. Our clinical work itself has not been affected too much, but there are additional measures we follow to the letter, such as wearing PPE and protective clothing. A major task in and of itself is simply convincing the public that this disease really does exist and poses a significant threat to everyone's health. For our part, we are making sure to be mindful of the pandemic in everything we do, with the proper PPE and sanitizers and disinfectants available at all times.
Why do you think mobile clinics are important in Syria?
These mobile clinics are especially important in the northern parts of Syria where a large number of IDPs reside. These vulnerable individuals cannot afford to travel to medical facilities, not to mention the often insurmountable financial barriers of medical care itself. Hundreds upon thousands of Syrians are facing desperate living conditions in these settlements, lacking access to the most basic necessities and facing increasing poverty levels by the day. If someone lacks enough income to even bear the absolute minimum costs of living, how could they ever afford to purchase expensive medications or make a costly visit to a private doctor? I pray for my displaced brothers and sisters. We have a duty to do whatever it takes to alleviate their suffering.