Throughout the year, SAMS organizes and participates in international meetings that seek to build a consensus among the different local, regional, and international stakeholders engaged in the medical relief and recovery in and around war-torn Syria.
On May 24 at the World Humanitarian Summit in Istanbul, Turkey, SAMS co-led a side event along with the Syrian Relief Network, Syria Relief and Development, Union of Medical Care and Relief Organizations (UOSSM), and Sawa for Development and Aid. Additionally, the SAMS Foundation Chiar, Dr. Majd Isreb, presented our core committments at a high level roundtable session at the summit.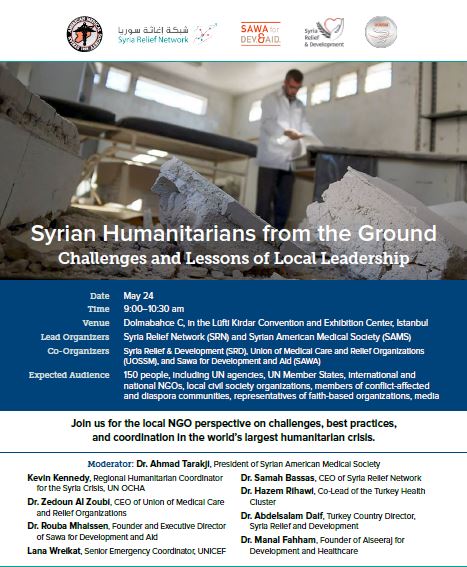 In partnership with Qatar Ministry of Foreign Affairs, Qatar Red Crescent (QRC), Syrian Expatriate Medical Association (SEMA), Physicians Across the Continent (PAC), Sham Relief, and Siraj, SAMS is hosting its first international meeting under the theme: "Transitioning from Medical Relief to Resilience and Recovery in the Syrian Crisis" in Doha, Qatar on March 23- 25.