"The blatant use of chemical weapons in Syria four years ago has set a dangerous precedent, a clear violation of international humanitarian law gone unnoticed. Today is a painful reminder of the failure of humanity in Syria, as we remember the victims of the 2013 sarin gas attack on East Ghouta. Atrocities committed against the people of Syria continue with impunity. We cannot stand by while people are being gassed and starved to death."
– Dr. Ahmad Tarakji, SAMS President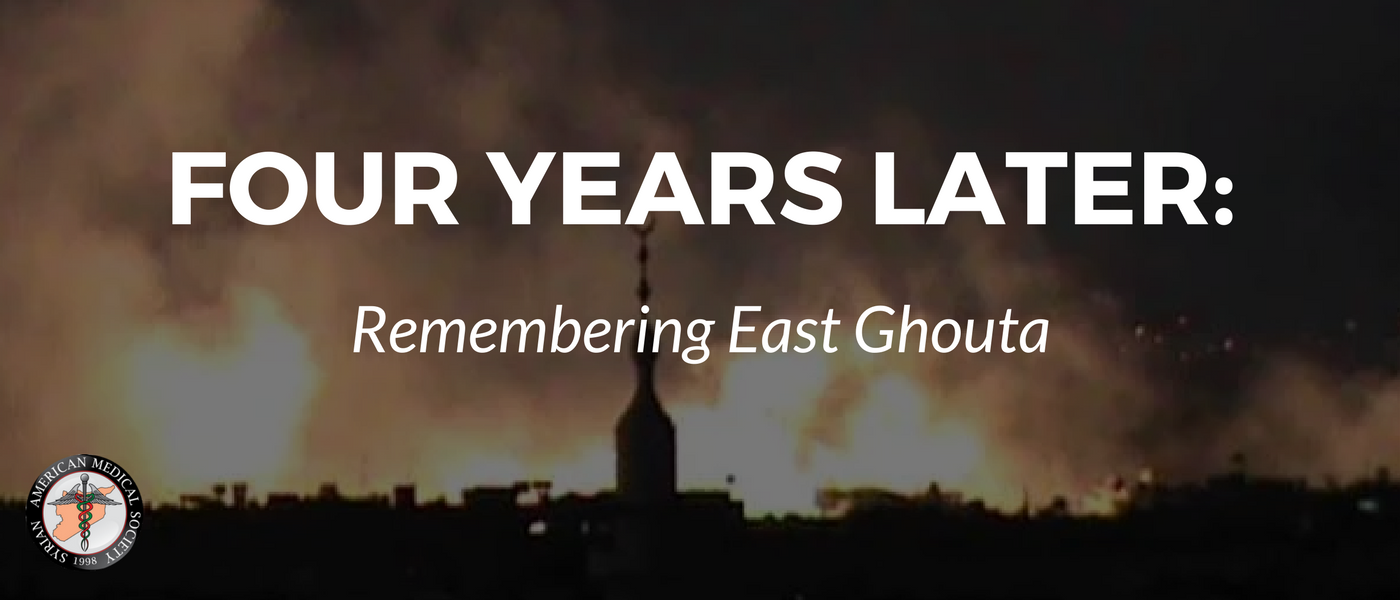 Four years ago, on August 21, 2013, the Syrian government carried out a horrifying sarin attack in besieged East Ghouta, killing over 1,200 civilians. This tragic event is now known as the most devastating chemical attack that Syria has seen in over six years of conflict.
Today, we remember the people who lost their lives in this attack, and the thousands more who were affected and continue to grapple with the event's horrifying legacy. We also recognize the heroic work of medical personnel in the face of these illegal attacks.
August 21 was not an isolated incident: the use of chemical weapons is unlawful, yet it has persisted in Syria without any accountability or enforcement, despite UNSC Resolution 2118 mandating the destruction of Syria's chemical weapons stockpile.
Since 2013, the use of chemical weapons in Syria has become the new normal. Last year, SAMS released the report "A New Normal: Ongoing Chemical Weapons Attacks in Syria," documenting the use of chemical weapons in Syria from the beginning of the conflict through 2015.
In addition to the loss of civilian life, many medical personnel and emergency workers have lost their lives due to exposure to these inhumane weapons. Just a few months ago, on March 30, 2017, Dr. Ali Darwish was performing surgery on his patient in Hama when barrel bombs filled with chlorine targeted his hospital. He refused to leave his patient's side, and succumbed to the chlorine gas that filled the operating room.
Only 10 days after his death, the Syrian government and its allies targeted the town of Khan Sheikhoun with Sarin gas, in the deadliest chemical attack since the 2013 East Ghouta massacre. The attack killed over 80 people. At least five chemical weapons attacks have been documented since the Khan Sheikhoun attack.
On August 21, 2017, condemnations of the illegal use of chemical attacks seem hollow as we reflect on the sustained and egregious uses of chemical weapons throughout the Syrian conflict. These attacks are unlawful, destroy communities, families, imperil medical workers, and force residents to flee.
It is not enough to decry the use of chemical weapons – we must come together as an international community and ensure perpetrators are held accountable for these war crimes.