April 28, 2017
Washington, D.C.- Over the past few weeks, systematic and targeted attacks on healthcare in Syria have intensified. According to our staff on the ground, in April alone, 24 attacks on healthcare were carried out by the Syrian government and its allies, killing 10 health workers and injuring 16.
Yesterday, a hospital in Deir Sharqy in Al Ma'ara, south of Idlib, was targeted by four airstrikes, killing 3 patients and injuring 3 medical workers. The hospital maintained structural damages.
A few hours later, a double-tap airstrike targeted a medical point in Kafr Nobol in Idlib, killing 5 people and injuring 20. SAMS's Yousuf Sotal, a paramedic, and Saleh Rahmoun, an ambulance driver, were among those killed in the yesterday's second attack. Yousuf and Saleh helped treat victims of the Al-Rashideen explosion on April 15, which killed 126 people following the evacuation of Fuah and Kafraya.
In the early hours of April 28, a maternity hospital in Idlib was attacked by at least two airstrikes. No casualties were reported.
This week's attacks represent a continuing intensification of the aerial bombardment campaign over areas outside of government control. According to our reports from the ground, 1 attack on healthcare occurred once every 28 hours in April. This is the same rate as at the end of 2016, when besieged eastern Aleppo faced a barrage of aerial attacks. April's attacks put 11 facilities out of service, killed 10 health workers, and injured 16 health workers.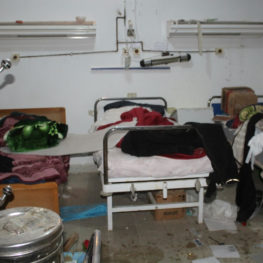 On April 2, a SAMS-supported hospital in Marrat Numan was hit by an airstrike, wounding one medical staff and 23 others. The hospital, which was providing over 13,000 consultations per month, was put out of service.
On April 4, just hours after the town of Khan Sheikhoun was targeted with sarin gas, the hospital treating the victims was targeted with a double-tap airstrike, partially destroying the facility. The attack on Khan Sheikhoun represents the largest chemical attack since August 2013. At least 86 were killed. This same hospital was targeted again on April 16.

On April 22, a SAMS-supported hospital in Abdin was targeted, devastating most of the building and putting the facility out of service. Two medical staff were wounded in this attack. Four people were killed, including a six-month old baby and her parents.
These attacks in Syria represent only a handful of the many violations of international humanitarian law and UN Security Council Resolutions mandating the protection of both civilians and healthcare workers and facilities. The destruction of healthcare facilities represents a rupturing of a needed lifeline for civilians, who face a lack of access to all levels of care.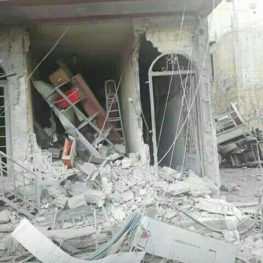 "We're deeply saddened by the loss of yet more heroic healthcare workers. Our hearts and prayers go out to their families," said Dr. Ahmad Tarakji, SAMS President. "The double-tap tactic that we have seen far too many times in the Syrian conflict is a calculated and sinister effort to target first-responders and health workers who, despite the clear risks, prioritize the lives of their patients. It is time for the international community to act immediately to put an end to these crimes against humanity once and for all."
We, at SAMS, are deeply disturbed and disheartened by these ongoing, escalating attacks against healthcare workers, and we call yet again on the international community to act immediately to protect medical workers and hold perpetrators accountable for these criminal acts. The international community has a moral obligation to intervene and protect civilians and healthcare workers. Its inaction has translated into more violence and suffering.