For Immediate Release
April 13, 2016
Washington, D.C.- This morning, Dr. Hasan Al-A'raj, Health Director of Hama, who also worked in a SAMS- supported cave hospital built into the side of a mountain, was killed by a targeted airstrike.
Born in Hama in 1970, Dr. Al-A'raj completed his medical training in Cardiology in 2001.
Dr. Al-A'raj was the only cardiologist left in the province of Hama.
He is survived by his wife and children, ages 1 to 17 years old.
Around 12:00 pm, Dr. Al-A'raj left the cave hospital in his car, driving toward the building of the health directorate. He was on his way to conduct interviews with potential paramedics and drivers to operate the newly established SAMS emergency response system in Hama.About one hundred meters from the hospital, his car was attacked by an air-to-surface missile, killing him instantly. The hospital was not struck, and local health workers believe Dr. Al-A'raj to be the target of the attack.
Earlier this year, when asked about what he wanted most from the international communityDr. Al-A'raj told SAMS: "The way that people are looking at the conflict is from a political perspective, not from the humanitarian side. The thing I would ask for right now is that the world acts in order to protect patients, like with underground hospitals. We need protection."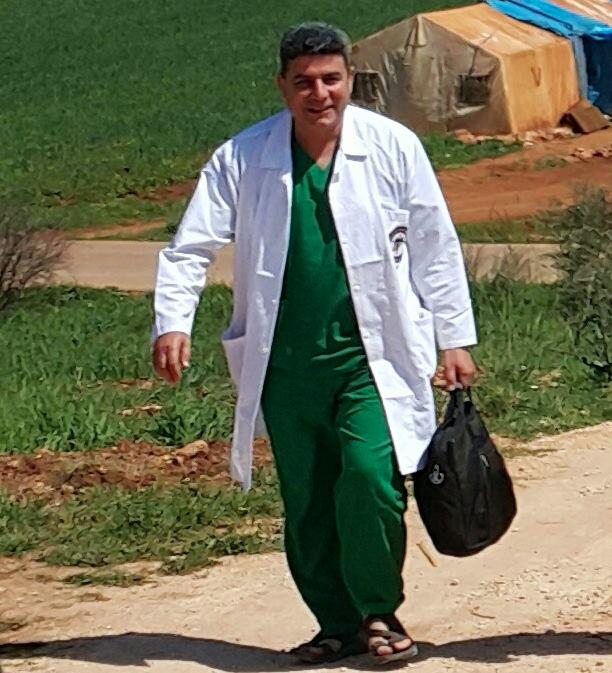 The underground hospital had previously been targeted on several occasions by aerial attacks. The last of attack, which occurred in May 2015, killed two medical staff and completely destroyed the facility, forcing its relocation to a fortified underground facility. Despite its new location, the facility has been the target of additional aerial attacks. The hospital provides the local population of over 99,000 civilians with ICU services and minor surgical procedures including cardiovascular, orthopedic, and general surgery.
"Dr. Hasan is a civil society leader. He helped organize the civil council in his hometown, creating a prosperous community. This small town with its limited resources, hosted thousands of internally displaced Syrians," said SAMS President, Dr. Ahmad Tarakji. "Dr. Hasan and his team treated patients who were victims of chemical attacks and vicious airstrikes. He donated his hospital to serve the community free of charge.
A leader, a doctor, and a friend, SAMS mourns the loss of this exemplary physician who dedicated his life to helping others. The international community must have a zero tolerance of these violations of international humanitarian law."
SAMS strongly condemns attacks against all health personnel and facilities, as well as civilians and civilian infrastructure, and calls for the UN Security Council to act with urgency and enforce its own resolutions, particularly UNSC Resolution 2139 calling for an end to attacks on civilians and respect for medical neutrality.
For media requests, please contact SAMS's Media Manager Lobna Hassairi at

[email protected]

.