Washington, D.C. – Earlier this morning, a Union of Medical Care and Relief Organizations (UOSSM)-supported primary health care facility in the Al Marja neighborhood of Aleppo City was hit by targeted missile strikes. The facility was completely destroyed. This facility saw over 2,000 consultations per month. As of this time, there are no reported staff or civilian casualties from the attack.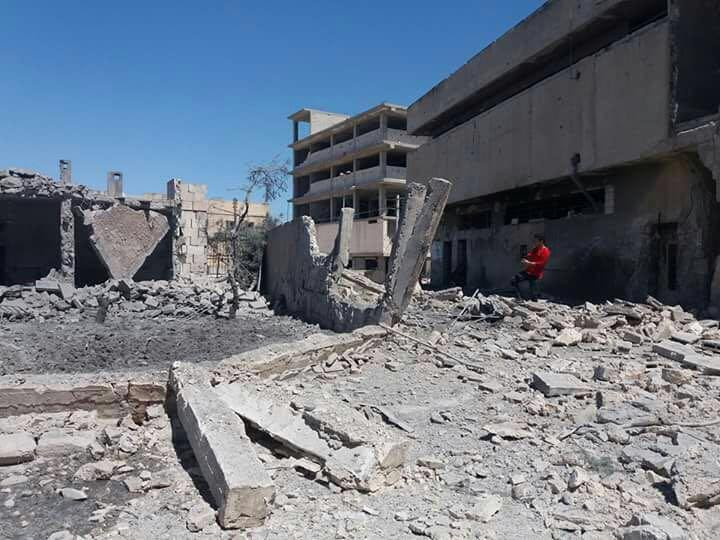 This attack came only one day after the Al Quds field hospital in Aleppo was hit by a targeted airstrike from

Russian or Syrian air forces

, killing at least 27 people, injuring at least 60 people, and completely destroying the facility. Al Quds, which had advanced pediatrics and gynecology units, was the only hospital with an operational neonatal ICU in Aleppo.
Dr. Mohammed Wasim Moaz, the last remaining pediatrician in eastern Aleppo city and widely considered one of the best pediatricians left in Syria, was killed in the Al Quds attack. Dr. Mohammed Ahmad, one of the ten dentists remaining in eastern Aleppo, was also killed in the airstrikes. Over the past few days, vicious attacks and shelling targeting civilians, hospitals, and aid workers have intensified in eastern Aleppo, resulting in more than 100 casualties. On average, one Syrian has been killed every 25 minutes in the past 48 hours, and UN Special Envoy to Syria Staffan De Mistura has warned of an impending "humanitarian disaster."
The devastating strikes on the Al Marja and Al Quds hospitals are only two of several recent horrific attacks amidst this unacceptable escalation of violence. The UOSSM hospital in Al Marja is the sixth hospital that has faced aerial attacks in the last week. In addition to systematic aerial attacks on hospitals, emergency first responders have faced grave losses. On Wednesday, April 26, the Al Atareb Training Center of the White Helmets, was hit by multiple airstrikes, killing five of their volunteers: Ahmad Abdullah, Khaled Bashar, Ahmad Mahmoud, Hamdo Haj Ibrahim, and Hussain Ismail.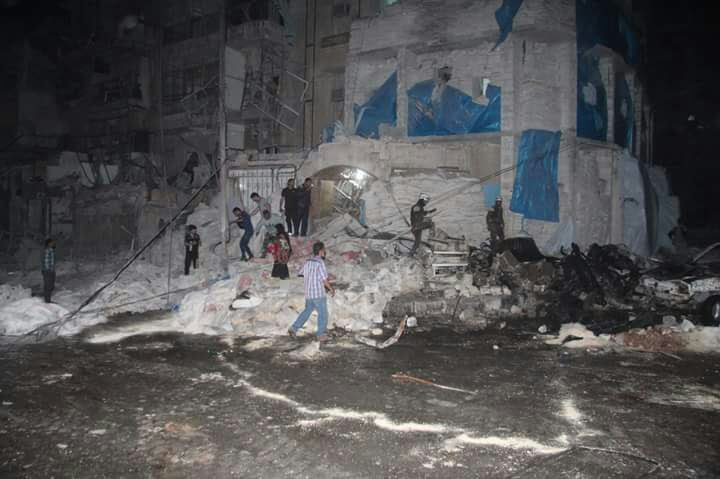 "The medical personnel are exhausted and scared. What happened
on Wednesday
was an unprecedented crime. A dentist and a pediatrician were killed,."said Dr. Osama Abo Al Ezz, SAMS's Aleppo Coordinator and a general surgeon practicing in Aleppo. "Children are being pulled from under the rubble. This is just a glimpse of what's happening here on the ground."
"These attacks are aimed to push people to leave Aleppo. The people are worried about being besieged, being killed by airstrikes. In the past week, the entire internal situation of Aleppo changed – people had begun to recover since the cessation of hostilities, to get their lives back. Suddenly now the situation has changed – food, water, fuel – everything has changed," said SAMS Turkey Advocacy Manager Mohamad Katoub.
"Targeting civilians, medical personnel, and hospitals is a war crime. These attacks constitute grave violations of the international humanitarian law. Perpetrators have to be held accountable for these heinous crimes," said Dr. Ahmad Tarakji, SAMS President. "People thought that the 'cessation of hostilities' agreement was an opportunity to protect medical personnel and allow civil society organizations who had worked, and are still working, tirelessly to maintain order in a time of turmoil. Unfortunately, that was just a fantasy. SAMS calls on the international community to act with urgency to protect civilians, rescue workers, and medical personnel in Aleppo and the whole of Syria, and ensure unhindered access to those in need."
For media requests, please contact SAMS's Media Manager Lobna Hassairi at [email protected].