For Immediate Release
April 8, 2018
Washington, D.C.- Following a brief ceasefire that only lasted for a couple of days, the city of Douma, East Ghouta, was again subjected to heavy shelling that resulted in dozens of casualties and hundreds of injuries. The attacks included the systematic targeting of medical centers and civil defense teams, resulting in the the destruction of the majority of the civil defense centers and a large number of ambulances and rescue vehicles, heavily paralyzing the medical capacity of the city.
On Saturday, April 7th, at 7:45 PM local time, amidst continuous bombardment of residential neighborhoods in the city of Douma, more than 500 cases -the majority of whom are women and children- were brought to local medical centers with symptoms indicative of exposure to a chemical agent. Patients have shown signs of respiratory distress, central cyanosis, excessive oral foaming, corneal burns, and the emission of chlorine-like odor.
During clinical examination, medical staff observed bradycardia, wheezing and coarse bronchial sounds. One of the injured was declared dead on arrival. Other patients were treated with humidified oxygen and bronchodilators, after which their condition improved. In several cases involving more severe exposure to the chemical agents, medical staff put patients on a ventilator, including four children. Six casualties were reported at the center, one of whom was a woman who had convulsions and pinpoint pupils.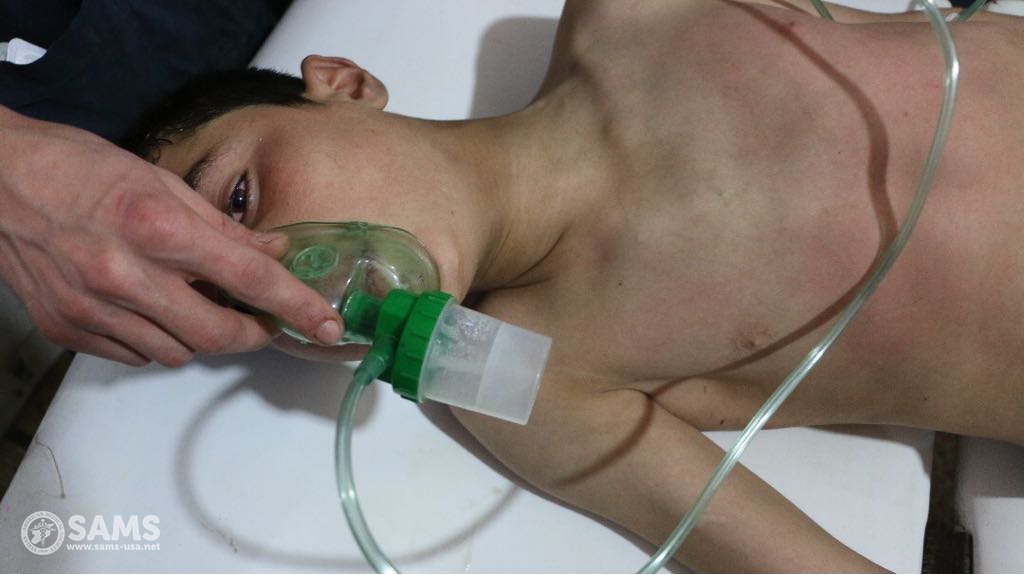 SAMS has documented 43 casualties with similar clinical symptoms of excessive oral foaming, cyanosis, and corneal burns. Civil Defense volunteers were unable to evacuate the bodies due to the intensity of the odor and the lack of protective equipment. The reported symptoms indicate that the victims suffocated from the exposure to toxic chemicals, most likely an organophosphate element.
Following the chemical attack, the target site and the surrounding area of the hospital receiving the injured were attacked with barrel bombs, which hindered the ability of the ambulances to reach the victims.
The Syrian American Medical Society (SAMS) and the Syrian Civil Defense (White Helmets) have documented nearly 200 uses of chemical weapons in Syria since 2012. Previous United Nations Security Council Resolutions on this matter have failed in stopping the use of chemical weapons in Syria.
SAMS and the Syrian Civil Defense demand an immediate cease-fire in the city of Douma and the entry of international investigation teams from the Organization for the Prohibition of Chemical Weapons (OPCW) to investigate this heinous chemical attack. SAMS, along with the Syrian Civil Defense call for the immediate intervention of the international community to enforce international law prohibiting the use of chemical weapons, and to ensure the protection of medical and humanitarian facilities to enable them to continue their lifesaving work.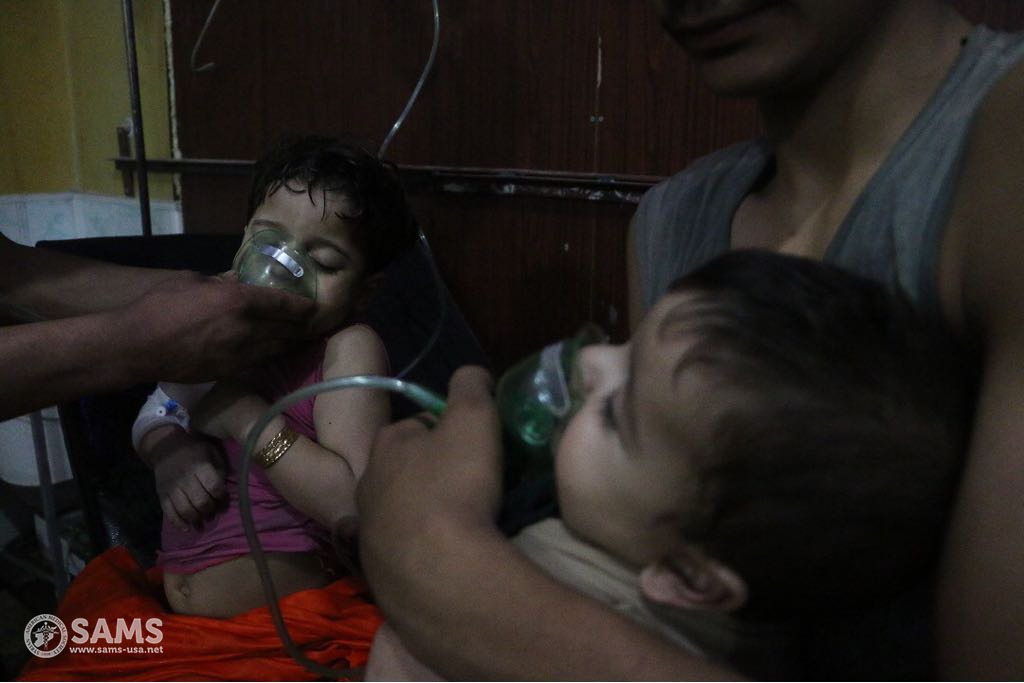 For media inquiries, please reach out to Lobna Hassairi, SAMS Media Manager, at [email protected]