In 2017, SAMS provided over 3.5 million medical services to vulnerable individuals in seven countries.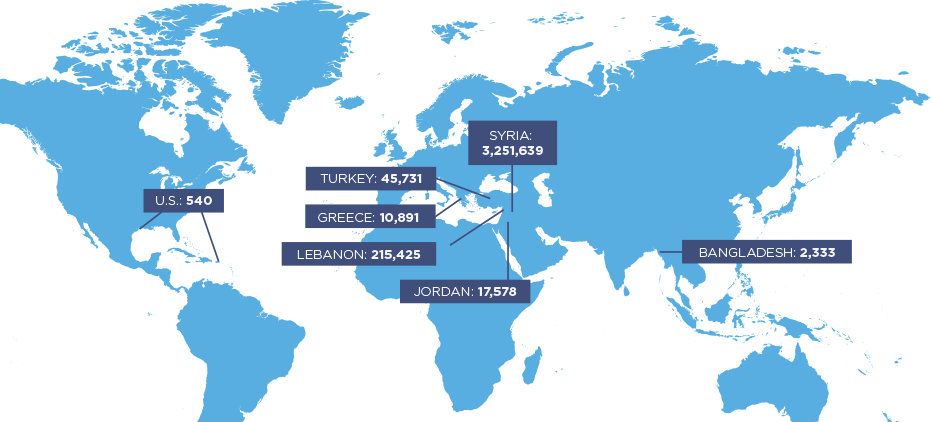 Despite the unimaginable challenges we faced in 2017, SAMS was able to expand its operations further to respond to growing medical needs around the world, including launching new programs inside Syria, immediately responding to emergency humanitarian crises in East Ghouta and Idlib, opening a multi-specialty medical center in Al-Zaatari Refugee Camp in Jordan, and deploying medical volunteers and launching clinics in Cox's Bazar as response to the Rohingya crisis in Bangladesh. This wouldn't be possible without the generosity of our supporters, and the dedication of our medical personnel, volunteers, and staff.
SAMS is proud to provide high quality, dignified, and specialized care to those in need free of charge.
In 2017, the average cost per patient was less than $10.

SAMS 2017 HIGHLIGHTS
In January,

SAMS opened a new dental clinic in al-Karam Refugee Camp in northern Syria

, home to more than 100,000 internally displaced persons (IDPs) who were forced to evacuate eastern Aleppo in December 2016.

Due to the high cost of dialysis treatment for refugees living in Lebanon, more than 50 patients lost access to critical care.

SAMS immediately responded by launching new dialysis programs in Beka'a and Tripoli, providing 1,800 dialysis sessions in 2017.

In the wake of the chemical attack on Khan Sheikhoun in April,

SAMS responded immediately by shipping nerve gas antidotes to our facilities that received victims of the sarin gas attack.

SAMS treated 201 victims of the chemical attack.

In the wake of Hurricane Harvey and Hurricane Maria,

SAMS urgently deployed teams of medical mission volunteers to Houston and to Puerto Rico

to respond to the medical needs of victims of these natural disasters.

In partnership with Cairo's Ain Shams University, SAMS launched its first medical mission to Egypt in November.

During the mission, SAMS medical volunteers provided interventional cardiology procedures to 51 patients, using the university's fully equipped catheterization lab.

In November, SAMS opened its new multi-specialty medical center in al-Zaatari Refugee Camp in Jordan.

The medical center, now the largest in the camp, provides 7,700 consultations per month, treats up to 350 patients on a daily basis, in various areas of specialty care, including cardiology, neurology, pediatrics, gynecology, dental, and orthopedics, as well as primary and preventative care.

In 2017, almost half a million Rohingya refugees fled from Myanmar to Bangladesh, seeking a safe haven from persecution and violence.

SAMS responded immediately by providing care to displaced Rohingya.

In September, SAMS partnered with a local medical organization, and opened two

health clinics in camps in Cox's Bazar, providing primary care, OB/GYN, and psychosocial care to 200 to 400 Rohingya refugees per day.

In November, SAMS was featured on "60 Minutes:"

The episode highlights the lifesaving mission of SAMS and the selfless and courageous work of our medical volunteers and personnel inside Syria who continue to risk their lives to save others.