On March 11, 2020, the World Health Organization (WHO) characterized COVID-19 as a global pandemic. SAMS is uniquely positioned to respond to this current health emergency, given our networks of healthcare professionals and volunteers in the United States, in Syria and in neighboring countries. Learn more about the novel COVID-19 and how to protect yourself against the coronavirus in the link below.

SAMS is currently coordinating with local and national health organizations, as well as a newly-established SAMS COVID-19 Advisory team comprised of SAMS members, to:
Improve surveillance, communication, and reporting among stakeholders;

Conduct risk assessments to prioritize the location of activities and identify the required resources needed for any potential response;

Increase community awareness about the virus and how to prevent its spread;

Prepare medical and non-medical staff on prevention, detection, response, and treatment;

Bolster existing infection, prevention, and control (IPC) measures in our existing facilities;

Pre-position appropriate personal protective equipment (PPE) for our staff to screen and respond; and

Establish quarantine/isolation units within health facilities.
Regional Response
The first case in the region was confirmed in the Iranian city of Qom in mid-February. As of today, there are growing numbers of confirmed cases in Lebanon, Iraq, Jordan, and Turkey. If concerted efforts are not made to contain the virus now, the consequences for conflict-affected communities have the potential to be devastating.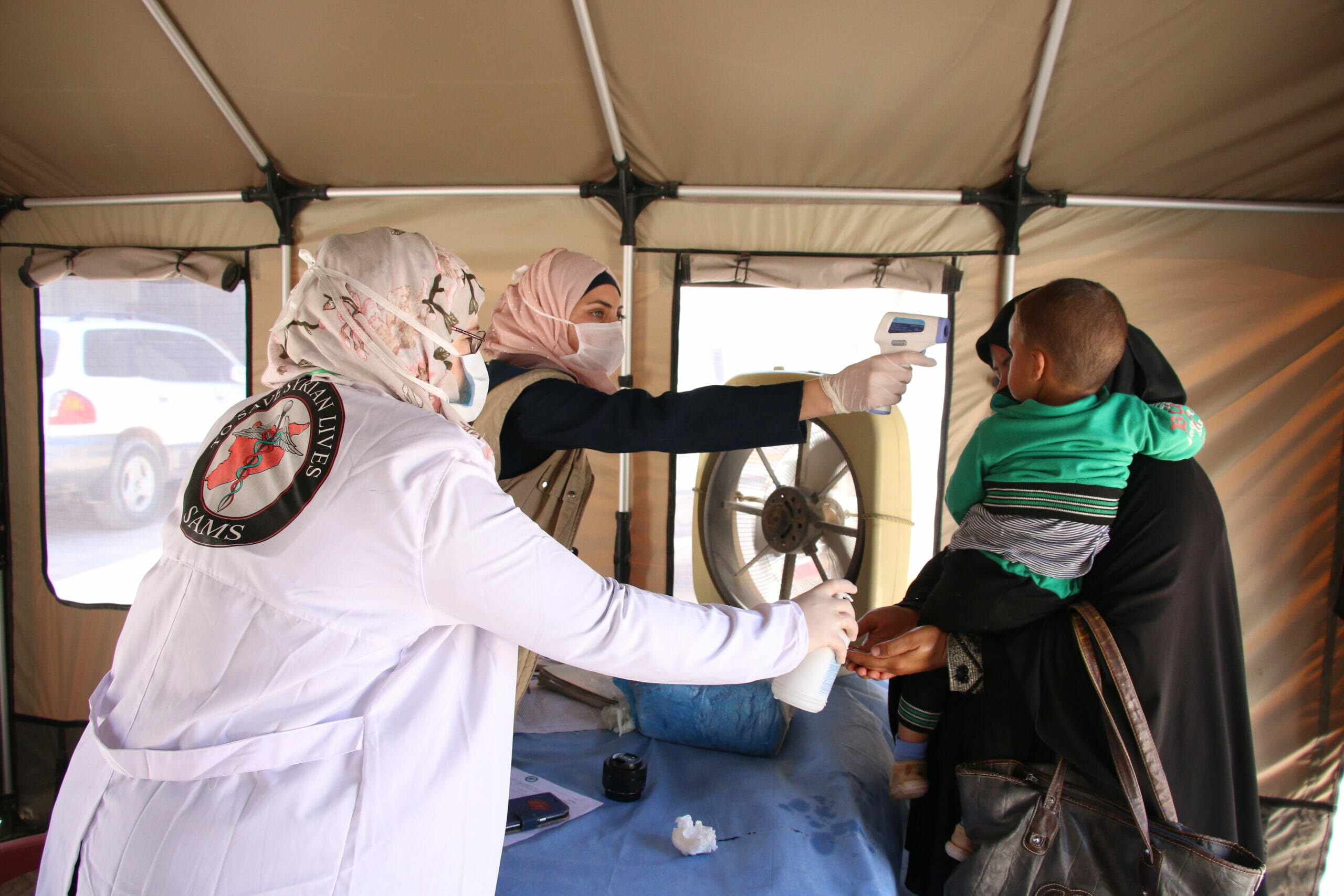 Northwest Syria Response
In northwest Syria, SAMS is coordinating with the Health Cluster, WHO and Early Warning, Alert, and Response Network (EWARN) to mobilize a robust plan of action in the event of a COVID-19 outbreak in the area.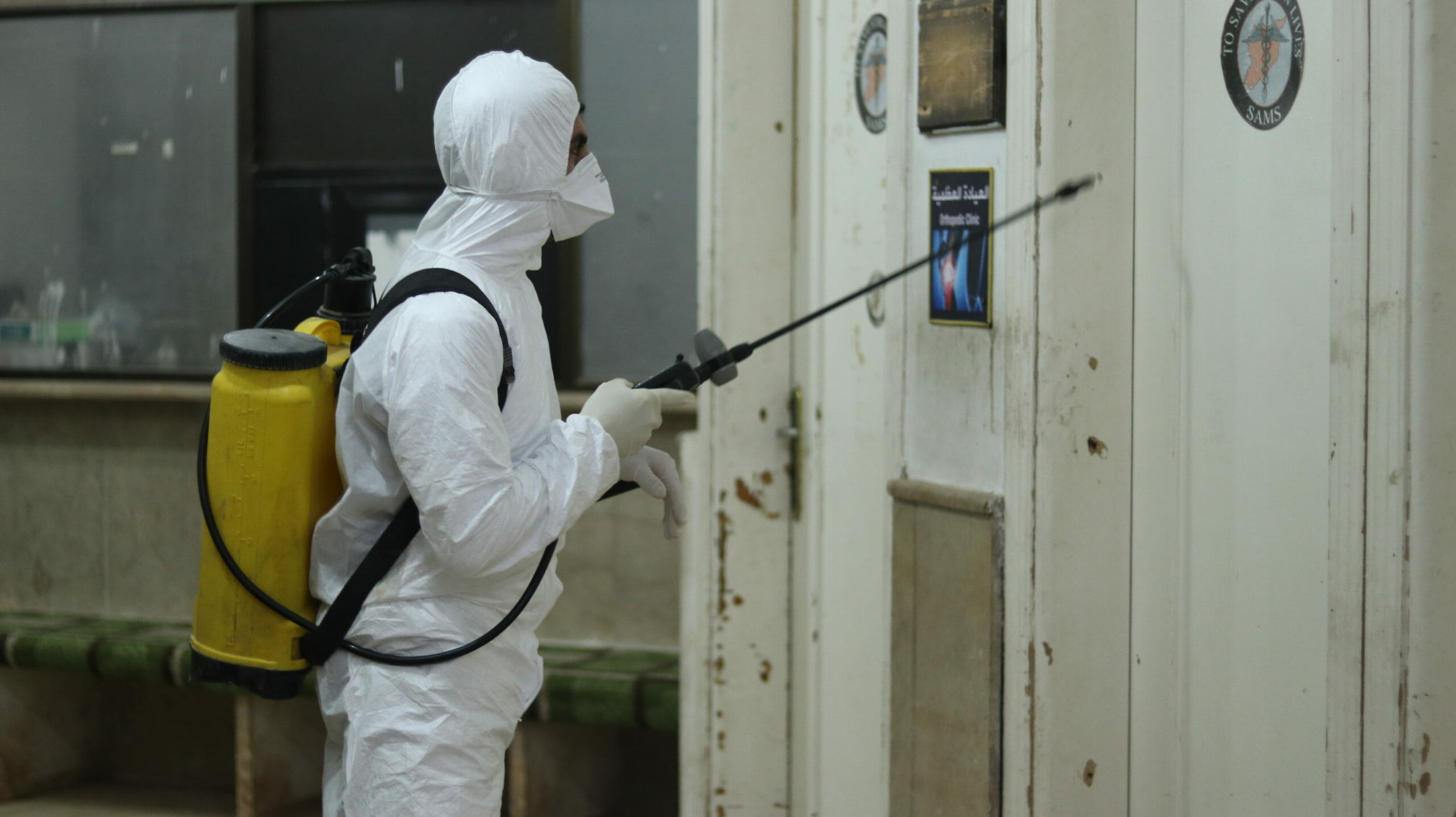 As a result, SAMS has taken all the necessary precautionary measures by:
Establishing a main hospital to

provide critical care and case management to COVID-19 cases, equipped with

ICU beds, recovery beds, and ventilators. We're delighted to report that SAMS opened a COVID Care Center in Idlib city specifically designated to treat and isolate suspected cases of

COVID

-19. It is the only facility of its kind in northwest Syria that provides these services free of charge. This was made possible thanks to the generous support from the World Health Organization (WHO) and our medical personnel and staff who worked tirelessly to open this facility in a timely manner despite ongoing challenges

Setting-up separate tents outside SAMS facilities to improve and streamline the triage system as well as establish isolation units within health facilities for suspected cases

Procuring adequate protective personal equipment (PPE) for its 2,000-plus staff on the ground to continue their work safely

Pre-positioning respiratory infection treatment kits

Strengthening existing infection, prevention, and control measures in all of SAMS facilities

Training medical workers on how to prevent and contain the transmission of the virus

Conducting ongoing activities to raise awareness at the facility level and outreach campaigns through community health workers, mobile clinics, and psychosocial support teams

Improving the surveillance system in coordination with the Early Warning Alert and Response Network (EWARN) through training all SAMS facilities staff on the case definition, reporting, and referral pathways
Jordan Response
In Jordan, SAMS has been working closely with the Ministry of Social Development and the Ministry of Health to curtail the outbreak of COVID-19 by providing financial support and medical supplies in their attempt to contain the spread of the coronavirus.
In Zaatari Refugee Camp, home to nearly 80,000 Syrian refugees, SAMS Medical Center continues to receive and treat patients while implementing safety, care, and sterilization guidelines recommended by the Jordanian Ministry of Health. SAMS was one of the first NGOs working in the camp that responded to UNHCR's request to operate and remain open 24 hours/ 7 days a week. Additionally, our center has established a hotline to provide medical consultations on a regular basis, set up an isolation room for suspected cases of the coronavirus, and provided a referral mechanism.
SAMS has also launched a campaign to raise awareness and ensure residents follow the MoH guidelines to prevent and contain the spread of the coronavirus in the camp.
Our mental health and psychosocial support team has established hotlines to respond to the needs of our beneficiaries by providing ongoing virtual counseling and psychiatrist services.
Finally, we have launched a series of MHPSS webinars in Arabic to offer useful tools and coping mechanisms to help individuals cope with stress and anxiety during these challenging and difficult times.
Lebanon Response
In Lebanon, SAMS is actively participating in all aspects of health coordination. We are in direct communication with the Ministry of Public Health to support the response effort through the procurement of 6,500 PPE for health workers on the front line. A second batch will be delivered soon.
SAMS is part of the Rapid Response Team (RRT) launched by UNHCR, and we are leading contributions to monitor over-crowded informal settlements that are at high risk.
We have been conducting a campaign to raise awareness on the prevention and containment of the disease, especially among refugee populations. This program has been implemented in 4 informal settlements, home to nearly 1,000 Syrian refugees, and follows the "Training of Trainers" (ToT) model. All materials have been created in Arabic, English, and in sign language.
Additionally, we have been sensitizing people on the need for proper hygiene and hand washing through distributing personal hygiene products and cleaning supplies in informal settlements.
We're currently working with local partners and INGOs to cover costs for COVID-19 testing and treatment for vulnerable individuals.
Turkey Response
In Turkey, SAMS is enacting additional hygiene measures at its offices and MHPSS facility, and communicating with the Ministry of Health to determine how best to support preparedness and response efforts for the refugee population in particular.
Additionally, SAMS has procured and distributed PPE to hospitals battling the coronavirus, as well as to Syrian refugee communities in need. The large Syrian community in Turkey is facing a challenging time during the COVID-19 outbreak, exacerbating their already fragile living situation and ability to access basic needs.
Kurdistan Region of Iraq Response
In the Kurdistan Region of Iraq (KRI), SAMS is coordinating with the Ministry of Health, Joint Crisis Coordination Center (JCC), and the Health Cluster and stands ready to support the response. As shared with us by the Directorate of Health (DoH), there is an urgent need for personal protective equipment (PPE) to be procured and distributed to staff at facilities – specifically masks, ventilators, syringes, gowns, hand sanitizers, and disinfectants. Trainings for DoH personnel are also integral to the response – in particular on IPC protocols, outbreak management basics, Standard Operating Procedures (SOPs) for newly established quarantine units, and COVID-19 case definition and management.
United States Response
SAMS has a US-based community outreach program in which its over 1,500 members and volunteers are able to contribute, offering a vital communications network in providing prevention guidance and serving as volunteers to support the most vulnerable within their communities.
Here at home, SAMS continues to play a vital role in providing prevention guidance and services to support the most vulnerable within our communities. We are proud of our brave members across the U.S. who are on the frontline of COVID-19 and all frontline medical workers around the world. They are the true heroes.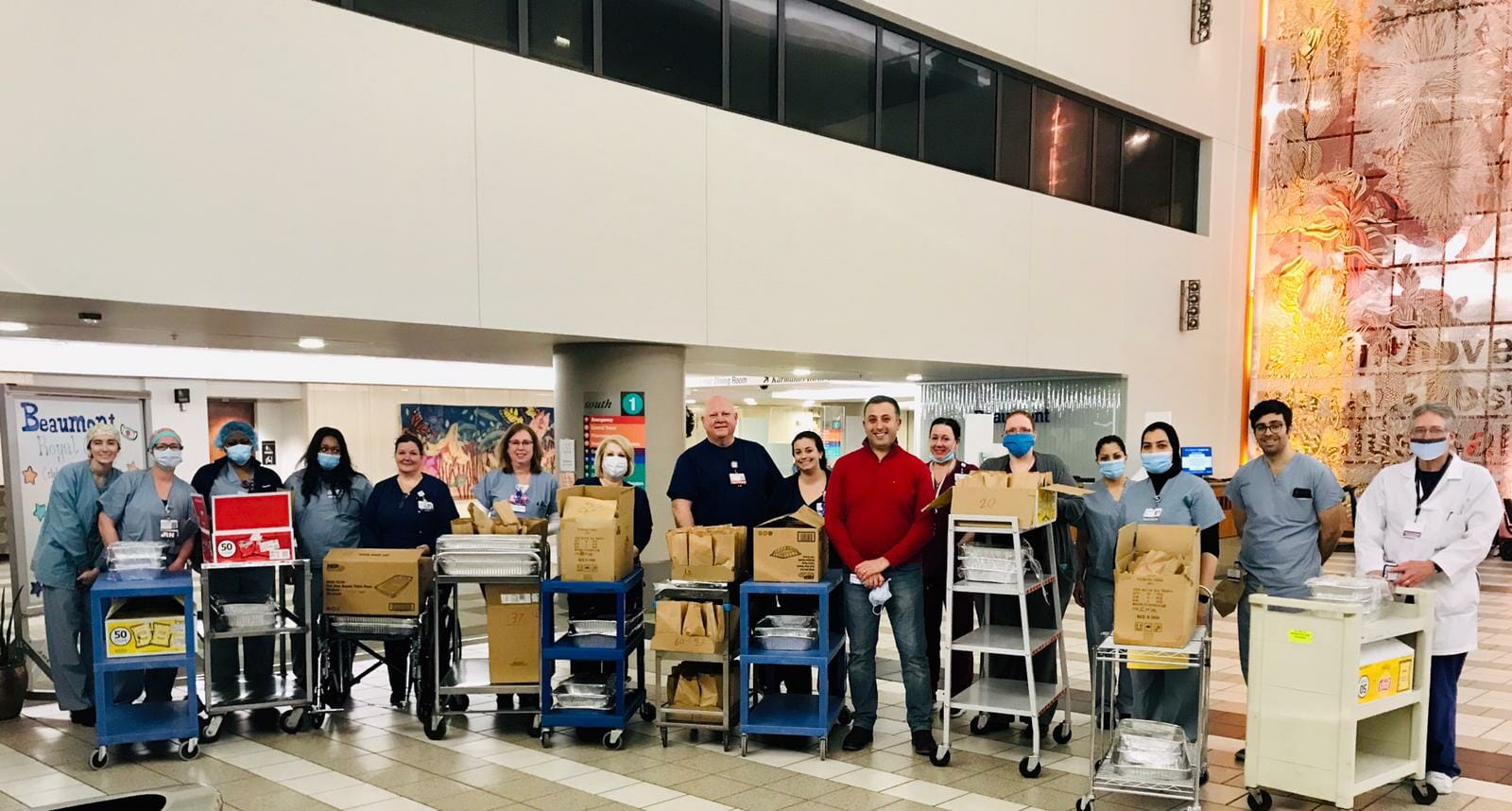 In order to support healthcare workers here at home who are working tirelessly to save lives, SAMS has:
Procured PPE to hospitals in states the hardest hit by COVID-19

Provided healthy meals to healthcare workers in addition to providing cash appreciation awards for nurses, respiratory therapists, and other COVID-19 unit healthcare workers who are working relentlessly around the clock putting their lives at risk, and

Launched an awareness campaign providing high quality, evidence-based, public health messaging and resources in English and Arabic, as well as weekly educational webinars on how to attenuate the impact of this health crisis
COVID-19 Advisory Committee
Dr. Aula Abbara, Infectious Disease Specialist
Dr. Mazen Najjar, Infectious Disease Specialist
Dr. Anas Moughrabieh, Pulmonary/Critical Care Specialist
Dr. Abdulrazzaq Alchakaki, Pulmonary/Critical Care Specialist
Dr. Jaber Monla Hassan, Pulmonary/Critical Care Specialist
Dr. Abdulghani Sankari, Pulmonary/Critical Care Specialist
Dr. Yasir Tarabichi, Pulmonary/Critical Care Specialist
Dr. Basel Tarab, Patients Relations Specialist