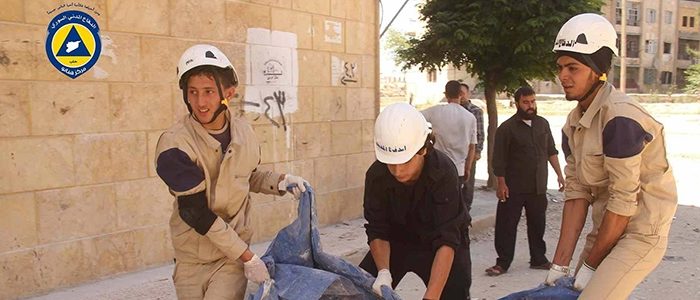 SAMS was proud to join The Syria Campaign for events in New York and DC with two members of Syria's civil defense, Raed and Khalid. The "White Helmets," or Syrian civil defense, are organized volunteers who act as rescue workers in areas like Aleppo and Idlib, running to areas that have been bombed saving people in the rubble. In the last six months, they have saved more than 2500 lives. We are proud to work with such heroes inside of Syria.
Our President Dr. Zaher Sahloul spoke alongside Raed, head of Idlib's civil defense force, at the  Surviving Life Caught Between ISIS and Assad: What's Really Happening in Syria? event on September 24 in New York.
Dr. Samer Attar spoke alongside Raed and Khalid, a member of Aleppo's civil defense force, at Meeting Syria's Rescue Workers: Saving Lives, Building Peace at the U.S. Institute for Peace on September 30 in Washington, DC.
For more information on the heroic civil defenders, visit the White Helmets website.