For refugees, risk factors that worsen a kidney condition include a lack of dialysis supplies, lack of adequate nutrition, and toxic stress. Because of the high cost of treatment for dialysis patients, many refugees cannot afford the treatment and many have lost their lives. Over 300 displaced Syrian patients have been identified in both Lebanon and Jordan, who are suffering from kidney disease face losing access to lifesaving care due to budget cuts.
Patients suffering from kidney disease cannot survive without specialized, stable care, including routine blood dialysis and specialized medication. Without these sessions, their kidneys cannot process harmful waste products, which leads to organ failure, and eventually, death.
Without treatment, most dialysis patients die within 10 days.
SAMS is taking immediate action to support treatment for dialysis patients, while working toward a sustainable long term solution needed to save their lives and ensure their care.
Aisha Ibrahim, 79, suffers from end-stage kidney disease, and needs three dialysis session a week. However, she hasn't received treatment for more than a month now. Because of recent budget cuts, Aisha and 128 other Syrians displaced in Jordan can no longer access lifesaving care. These 129 patients include 67 women, and 6 children.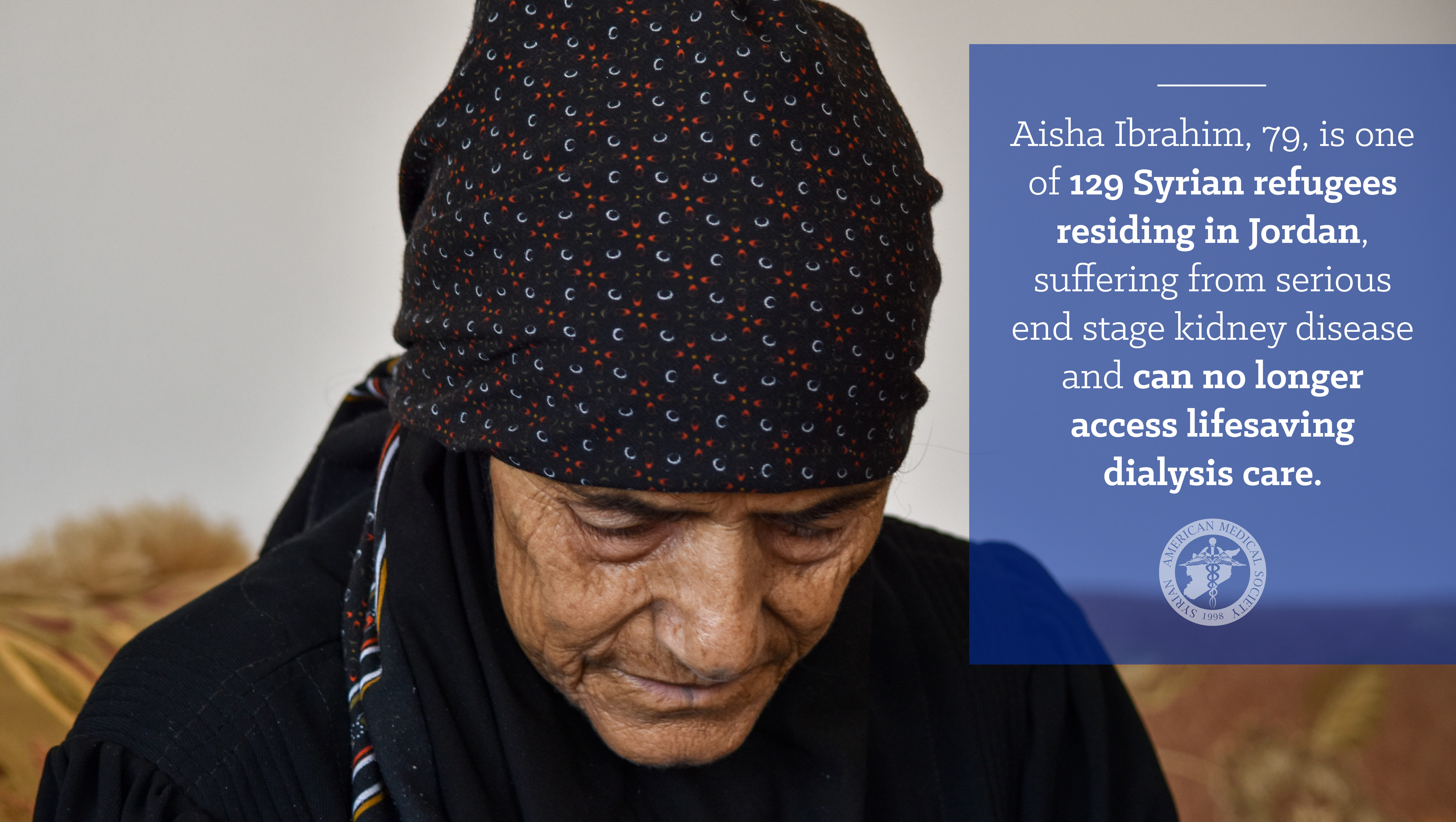 The cost of one dialysis session and the needed medication is approximately $65, an enormous financial burden for refugees in Jordan. Until recently, the kidney dialysis project in Jordan was led by the Syrian Expatriate Medical Association (SEMA). However, due to budget cuts, SEMA was forced to interrupt its dialysis services for Syrian refugees in Jordan.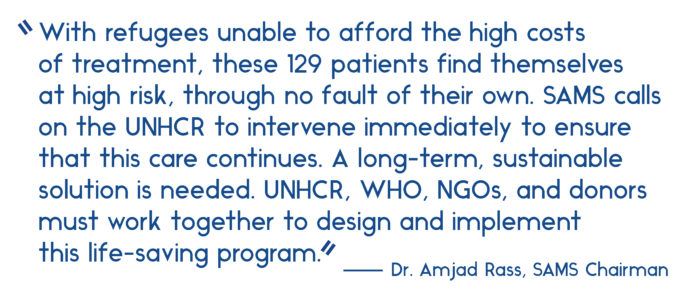 Another patient in need of care, Omar, age 46, has not been able to access dialysis care for almost 40 days. Since 2013, Omar has been living in Jordan with his family. He needs three dialysis sessions per week, but because of recent budget cuts, he can no longer access lifesaving care.
"This hospital alone is providing dialysis sessions for 31 Syrian refugees, but if the support stops, the patients will no longer be able to access dialysis, and will face death," he said.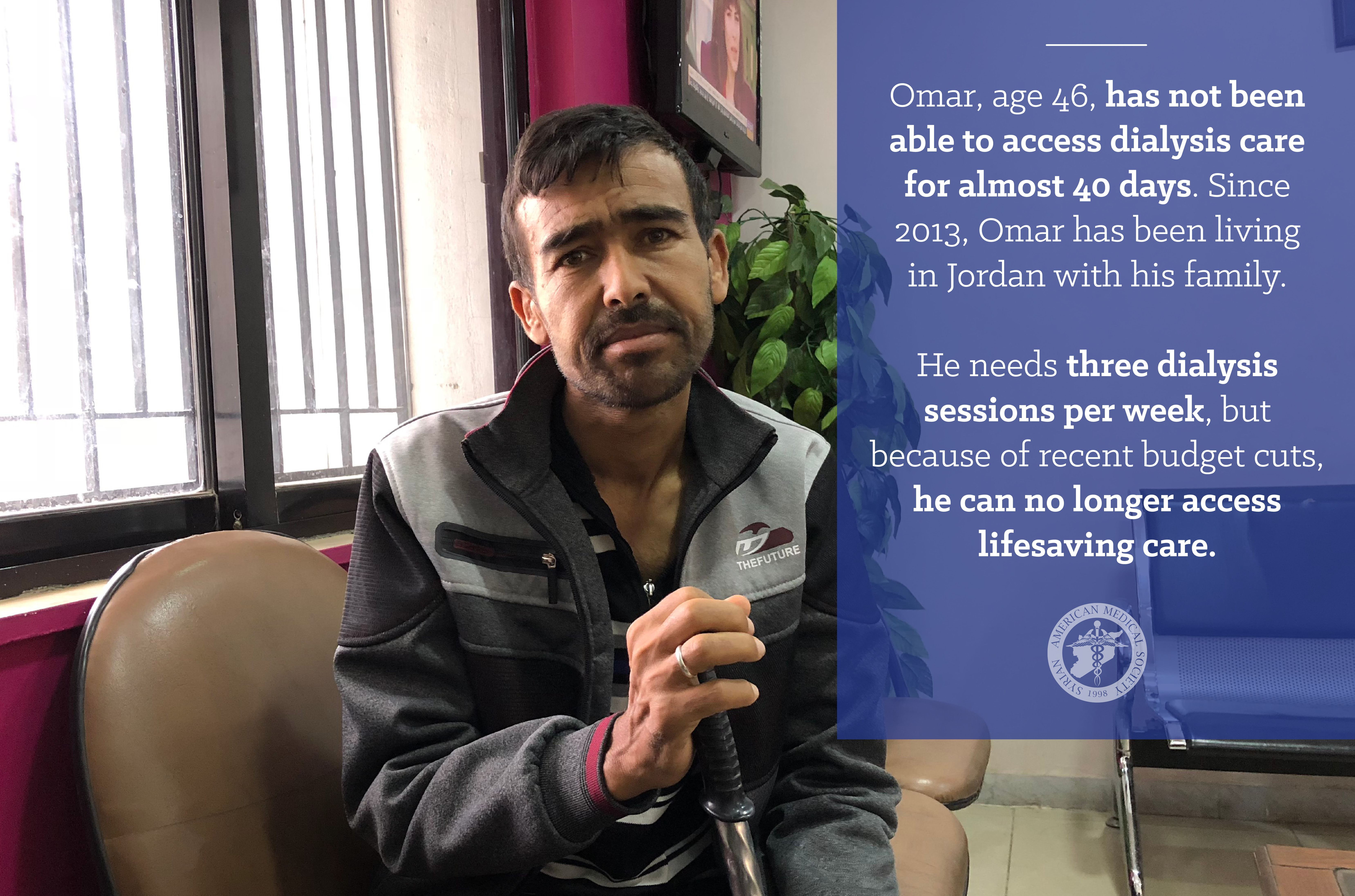 Abdel Razzaq, 14, was born with kidney failure. Like many Syrian refugees living in Lebanon who suffer from kidney disease, he cannot afford regular lifesaving dialysis treatments.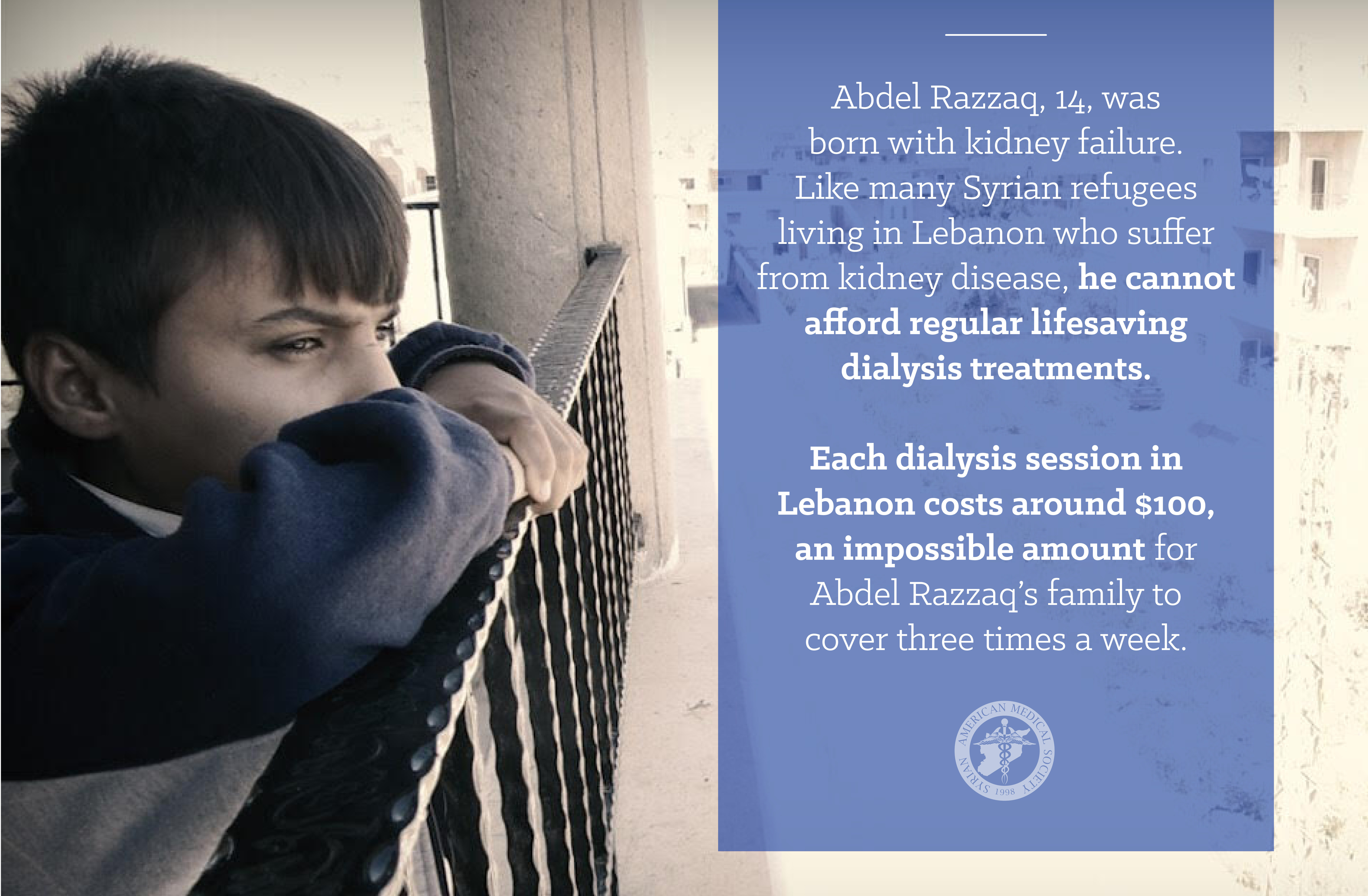 Each dialysis session in Lebanon costs around $100, an impossible amount for Abdel Razzaq's family to cover three times a week.
Watch a glimpse into Abdel Razzaq's daily life, as he struggles to help provide for his family and access dialysis care.
In early 2017, SAMS identified 50 Syrian refugees in Lebanon, like Abdel Razzaq, who lacked the financial means to pay for their dialysis sessions. Without care, they faced the possibility of death. SAMS immediately intervened, working with other NGOs to cover the costs, and to provide these sessions to refugees for free. Throughout the year, SAMS provided 1,800 dialysis sessions to patients in Bekaa, Beirut and Tripoli.
Now, the need is even greater. Abdel Razzaq, and other Syrians living in Lebanon, risks losing their access to this care due to recent funding cuts. In Lebanon, at least 200 patients need dialysis care, 135 of whom are covered only for the short-term, while 60 are not receiving consistent care. SAMS has been collaborating with other NGOs, including Caritas and the UNHCR, to ensure that the dialysis care can continue, but now we are relying on our supporters to make sure these patients receive the lifesaving treatment they need.
SAMS Response & How You Can Help
SAMS launches
Innovative SAMS Transplant Program in Jordan.
On August 27, 2018, SAMS supported the kidney transplant for 17-year-old Hanan Aboudan, a Syrian refugee living in Jordan. Hanan has been suffering from kidney atrophy, which led to increasing kidney failure over the last two years, and must undergo periodic dialysis sessions. The complications of the disease were so severe that Hanan had to stop studying for a year and even daily activities were impacted.
"I felt very happy, I forgot the pain from the intensity of my happiness," said Hanan.
Through our newly established "Innovative SAMS Transplant Program" in Jordan, SAMS supported the cultivation and transplant of the kidney donated by Hanan's mother, and performed the transplant procedure.
"I hope to recover from the effects of the process quickly, so that I can return to school, to achieve my dream study rights to become a lawyer," Hanan said.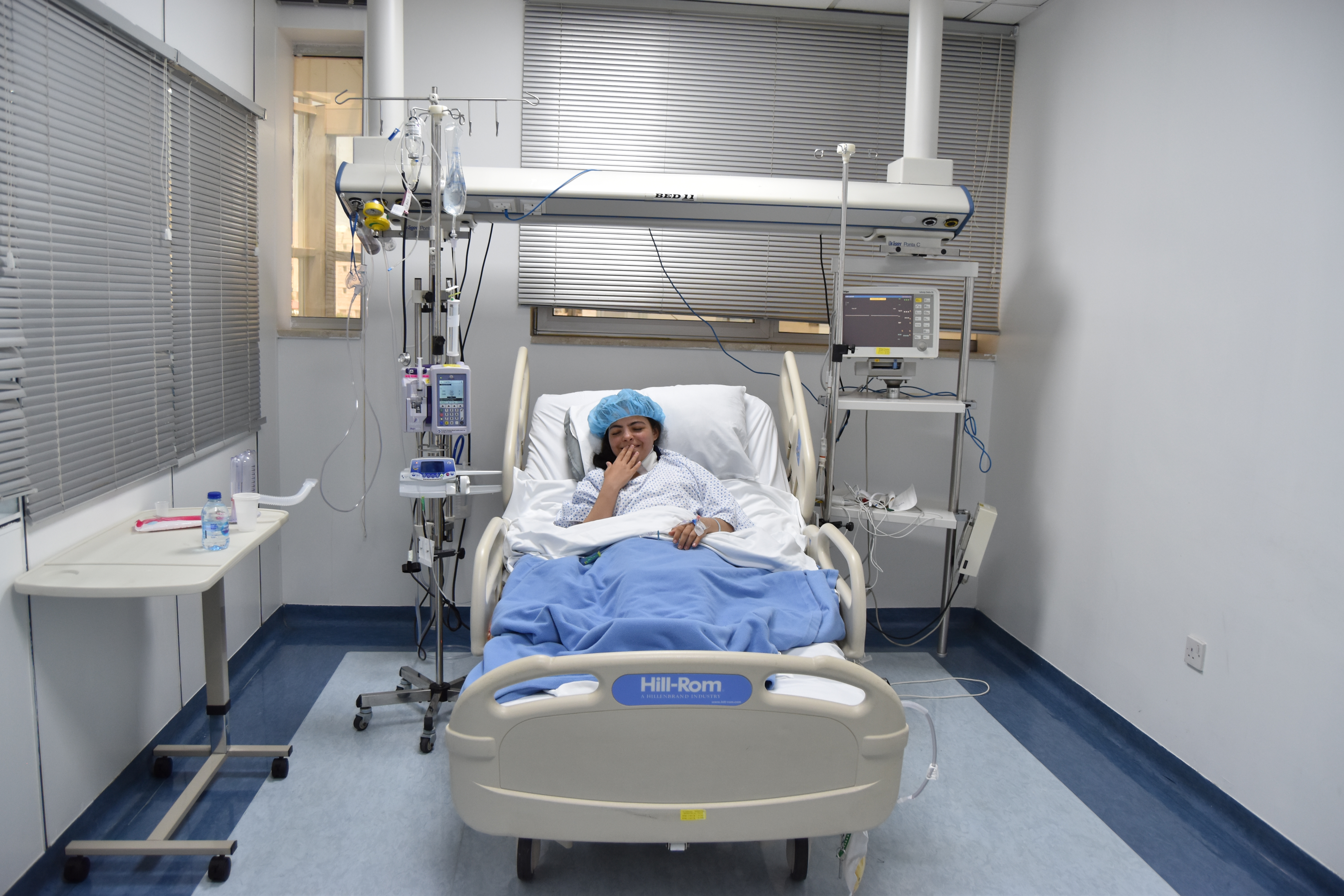 Additionally, in Jordan, SAMS is working on forming an alliance of NGOs to support these patients, while covering the cost of care for 100 patients for two sessions for two weeks, and three sessions for two weeks for children.
SAMS' Response in Lebanon
In Lebanon SAMS is currently providing dialysis support for 32 patients suffering from kidney failure. Dialysis patients in Lebanon face a number of challenges, including lack of dialysis services, and high cost of treatment and transportation (one dialysis session costs around $110; each patient needs a minimum of two sessions per week).
In addition to raising awareness about the barriers to health care access, and the need for sustainable treatment, we ask that you join us in ensuring their basic human right to access healthcare. Contributions to SAMS Dialysis Program will go directly to funding the costs of dialysis care for Aisha, Abdelrazzaq, and other refugees in Jordan and Lebanon.
Support this lifesaving care by selecting "Dialysis Program" from our drop-down menu on our Donation page. To help us advocate for patients suffering from kidney disease, please use #StandWithDialysisPatients.